WASHINGTON (CNN) -- If Treasury Secretary Tim Geithner is hoping to find strong bipartisan congressional support for his long-awaited troubled-asset bank relief plan, it appears he'll need to keep looking.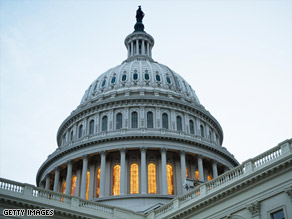 Some members on both sides of the aisle are critical of Treasury Secretary Tim Geithner's new bank relief plan.
A key Republican congressional leader blasted Geithner's plan within hours of its release Monday, saying it amounted to a flawed "shell game" that hides its true cost from taxpayers.
The plan is deceptive and "fundamentally flawed," House Republican Whip Eric Cantor, R-Virginia, said in a written statement.
"The plan seems to offer little incentive for private investors to participate unless the subsidy is made so rich that it comes at the expense of the taxpayer. In its current form, Secretary Geithner's plan is a shell game that hides the true cost of the program from the taxpayers that will be asked to pay for it."
One of the Senate's most prominent fiscal conservatives, however, issued a more positive response.
Sen. Judd Gregg, R-New Hampshire, said that he didn't know if the plan would work, but called it "a genuine and sincere effort to try to free up the credit markets and especially to get balance in the real estate markets which are at the core of the financial problems."
Under Geithner's Public-Private Investment Program, taxpayer funds will be used to seed partnerships with private investors who will buy up toxic assets backed by mortgages and other loans. The goal is to buy up at least $500 billion in existing assets and loans, such as subprime mortgages that are now in danger of default.
Don't Miss
The program could potentially expand to $1 trillion over time, according to Treasury officials, but they said the hope is that it would not only help cleanse the balance sheets of many of the nation's largest banks, which continue to suffer billions of dollars in losses, but also help get credit flowing again.

Watch Obama defend the plan »
The government will run auctions between the banks selling the assets and the investors buying them, hoping to effectively create a market for these assets.
The administration said it will commit $75 billion to $100 billion to start and will consider how the program is progressing before committing more money.
One of the biggest difficulties in getting the program off the ground will be how to price the soured assets. If the government pays too little, banks will take the hit. But if the government overpays, then already-soaked taxpayers will feel the pinch.
Another concern is whether the government's involvement will actually spur banks and private investor groups -- such as hedge funds, pension plans and insurance companies -- to participate.
Cantor, the No. 2 Republican in the House of Representatives, argued that Geithner should have instead adopted an insurance-based plan put forward by the congressional GOP last fall.
Under that plan, banks would have paid over time for any assistance required to clear their books of toxic assets.
"The Republican insurance-based model institutes a system of government insurance guarantees to provide certainty to investors," Cantor said. "It would act as a containment plan to wall off toxic assets from the rest of the economy and bring liquidity back to our financial markets."
Anger over Geithner's plan was not confined to the Republican minority.
Rep. Brad Sherman, D-California, slammed the plan, saying it treated banks better than taxpayers.
The plan "involves a thousand times as much money as AIG executives received in bonuses, and it would make the American people a thousand times as angry, except for the fact that it is so technical that the American people may not fully understand it," Sherman said in a speech on the House floor.
Taxpayers "are going to overpay for some, they are going to underpay for others. They are going to make money on some. They are going to lose money on others. [But] when they make money, half the profit goes to Wall Street. When they lose money, 94 percent of the loss goes to the taxpayer."
Senate Majority Leader Harry Reid, D-Nevada, acknowledged the plan's risk but said it nevertheless represents a prudent step forward.

"The Treasury Department plan is based on the sound principle that if we are to revive our economy, we must unfreeze the credit markets so people can get the loans they need," Reid said in a written statement.
"Like any investment, this plan carries the potential for both risk and reward. But above all, we must act -- one risk we will not take is standing on the sidelines and doing nothing while a bad situation gets worse."
E-mail to a friend

All About Timothy Geithner • U.S. Congress • National Economy