(CNN) -- The venues could hardly be more different: Jay Leno's couch and Steve Kroft's hot seat.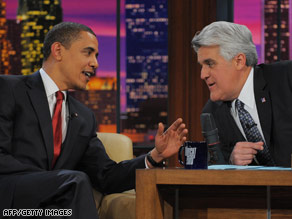 President Obama goes from Jay Leno's sofa to Steve Kroft's hot seat in the same week.
That hot seat, figuratively speaking, was in the Oval Office, where the "60 Minutes" correspondent interviewed the president Friday evening. Kroft will be on the "Reliable Sources" hot seat Sunday at 10 a.m. to talk about his sit-down with Barack Obama.
Kroft is no stranger to the Obama White House. He interviewed the Illinois senator a number of times during the campaign, and snared the first post-election interview with Obama and his wife, Michelle, seen by 25 million viewers on the CBS newsmagazine. I'll ask Kroft how he decided on the questions and whether it's more challenging to interrogate a sitting president than a mere candidate.
As for my earlier question, why would Obama submit to "60 Minutes" questioning after the relative ease of light banter on the "Tonight Show"?
The answer is that the president, trying to get off the defensive during AIG Outrage Week, is on a certified media blitz. That's why he played the Leno card, risking criticism that he shouldn't be making jokes in Burbank while the economy is crumbling. That's why he handicapped the NCAA playoff brackets on ESPN, risking criticism that he shouldn't be worried about college hoops while the banking system remains in crisis.

Watch how Obama is using television »
Kroft is just another stop on the tour. On Tuesday, Obama holds his second prime-time news conference, and it appears that all the broadcast networks are going to carry it. Not since Ronald Reagan has a president so easily persuaded the networks to forgo their lucrative entertainment programming. Bill Clinton and George W. Bush were often turned down by one or more networks. Of course, it's early in this administration.
'State of the Union'
John King reinvents Sunday talk: More time, for more politics.
Sunday, 10 a.m. ET


But for the moment, Obama means ratings. That's why Leno, Kroft and ESPN's Andy Katz all want the president, and why he keeps gracing magazine covers.
Will the full-court press work? It depends on how the economy is faring, of course, though it never hurts for a president to display his personal charm. But it also depends on how Obama handles the Kroft interview, which airs Sunday night. And that's why we're looking forward to talking with Kroft on Sunday morning.
E-mail to a friend

All About Barack Obama • 60 Minutes • The Tonight Show with Jay Leno