(CNN) -- A defiant Sen. Chris Dodd defended his actions on bonuses for AIG executives Friday as news surfaced that a senior company executive was returning his $6 million bonus.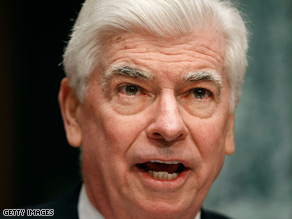 Sen. Chris Dodd admitted to CNN this week that he added bonus legislation to the stimulus bill.
Dodd said he was misled on the issue of bonuses for AIG executives. He claimed he would not have drafted key legislative changes allowing the bonuses to move forward if he knew the purpose of those changes.
Meanwhile, a senior AIG executive said through a company spokesman that he will return his $6 million bonus. The executive, Doug Poling, is returning the money "because it's the correct thing to do," said Mark Herr, an AIG spokesman.
Dodd, a Democrat from Connecticut, said officials at the Treasury Department led him to believe that the changes added to the $787 billion economic stimulus bill shortly before its final passage were merely "technical and innocuous" in nature.
"If I knew (the purpose of the changes) was to protect (AIG's) bonuses ... I would have flatly rejected it," he claimed.
Dodd, who was visiting constituents in Enfield, Connecticut, said he was disappointed that the Treasury officials who asked him to make the legislative changes had not identified themselves.
People are "incensed" about the "infuriating" bonuses to officials at AIG and elsewhere, Dodd said. "I don't blame them."

Watch more on the controversy surrounding Dodd »
Dodd told CNN on Wednesday that he was responsible for language added to the stimulus bill to make sure that already-existing contracts for bonuses at companies receiving federal bailout money were honored.
A Treasury Department official admitted to CNN earlier that the Obama administration had pushed for the language.
Don't Miss
Both Dodd and the official, who asked not to be named, said administration officials worried that the government would face numerous lawsuits without the new language.
Dodd had initially denied that he had anything to do with adding the language, which has been used by officials at insurance giant AIG to justify paying millions of dollars in bonuses to executives after receiving a federal bailout.
"I agreed (to the changes) reluctantly," Dodd said Wednesday. "I was changing the amendment because others were insistent."
On Capitol Hill on Wednesday, AIG chief executive Edward Liddy called the roughly $165 million in bonuses at the bailed-out insurer "distasteful" but necessary because of legal obligations and competition.
Liddy, who joined AIG after the bailout, said some employees have recently returned their bonus money. He has asked all AIG employees who took home more than $100,000 in bonuses to return at least half.

Watch more of Liddy's testimony »
On Thursday, the House of Representatives passed legislation to try to recoup bonuses paid to Wall Street executives with taxpayer money.
The measure would tax individuals on any bonuses received in 2009 from companies getting $5 billion or more in money from the Troubled Asset Relief Program, or TARP. Bonuses for people with incomes over $250,000 would be taxed at a 90 percent rate.

Watch Treasury Secretary Geithner discuss TARP and AIG »

Dodd, a five-term senator who ran for president in 2008, has come under sharp criticism for failing to rein in Freddie Mac and Fannie Mae during his tenure as head of the Senate Banking Committee.
He also faces a Senate ethics committee investigation over favorable mortgage rates he received under the Countrywide VIP program.
E-mail to a friend

All About Christopher Dodd • American International Group Inc.