By Sasha Johnson
CNN





WASHINGTON (CNN) -- Populist outcry over AIG bonuses and government bailouts is putting pressure on states to ensure federal stimulus dollars are not only spent wisely but also transparently.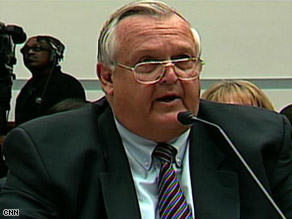 Earl Devaney, chairman of the Recovery Act board, says there is no tolerance for policy spending mistakes.
States stand to gain around $200 billion from the American Accountability and Reinvestment Act for a lengthy list of agenda items, including infusing Medicaid funds, expanding unemployment benefits, rebuilding infrastructure and shoring up state budgets.
Governors are appointing task forces, working groups and in some cases "czars" to make sure the money is not fraudulently spent.
Recovery.gov, a Web site set up by the Obama administration to track the $787 billion in stimulus money, is getting almost 4,000 hits a second, according to Earl Devaney, the chairman of the Recovery Act Transparency and Accountability Board.
Nearly every state has its own site that details how much money the individual state is due and how it will be doled out. See a guide to the states' Web sites
State and local representatives serving as stimulus watchdogs attended daylong briefings in Washington this month to hear from administration and agency officials about how to track the huge amounts of money flowing into their states and municipalities.
Devaney warned local officials from 42 states on Wednesday that there would be no tolerance for policy spending mistakes, although he acknowledged some waste and fraud is inevitable given the amount of funds in play. There is no money in the stimulus package for state and local auditors, but Devaney urged attendees to design uniform methods of data collection to measure spending and the results.
Keeping accurate data from start to finish, he said, would help answer reporters' questions and get information to the public.
Don't Miss
Vice President Joe Biden, who is overseeing stimulus spending, told state and U.S. territory watchdogs last week that in this economic environment, not every project is worthwhile.
"If we don't get this right, folks, this is the end of the opportunity to convince the Congress that anything should go to the states," Biden said.
"Six months from now, if the verdict on this effort is that we've wasted the money, we built things that were unnecessary, or we've done things that are legal but make no sense, then, folks, don't look for any help from the federal government for a long while."
One of those in attendance, New Jersey State Comptroller Matthew Boxer, acknowledged keeping track of the $17 billion flowing into his state presents "unique challenges."
"This system that has been set up through the Recovery Act is a complex system of economic rehabilitation and there are a number of different streams of funding and each stream carries different rules and different guidelines," said Boxer, who took office a year ago and is co-chairing New Jersey's efforts to monitor stimulus spending. "We are dealing with not only large amounts of money, but a variety of different government agencies and hundreds, thousands and tens of thousands of people involved in the process."
Boxer's office, along with various other state agencies, will be in charge of approving stimulus projects, tracking the spending and evaluating in the end whether the project helped create jobs. New Jersey has 1,900 "different units of local government," Boxer said, which in some cases can act independently with stimulus money and add a layer of complexity for the watchdogs.
"What is the obligation specifically of a state government to monitor and oversee actions of local governments who are getting funding directly from the federal government? We may not even be aware that funding is coming in," he said.
On matters like these, Boxer is still waiting for oversight guidelines from the Obama administration.

Boxer said he is aware of New Jersey's reputation for sometimes misusing and abusing public money and he is fully committed to stopping it. But he echoed Devaney's sentiment that not all waste and abuse can be eradicated.
"When you are talking about this amount of money, this kind of complexity involved, does it present unique challenges in eliminating all fraud? It does," he said. "We are working hard to deal with that as an issue, but to believe that it will be easily conquered would be naive for anybody."
E-mail to a friend

All About National Economy • Economic Stimulus