Editor's note: Campbell Brown anchors CNN's "Campbell Brown: No Bias, No Bull" at 8 p.m. ET Mondays through Fridays. She delivered this commentary during the "Cutting through the Bull" segment of Thursday night's broadcast.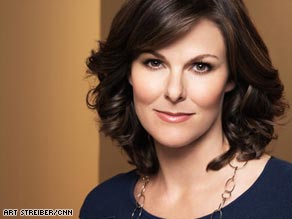 CNN's Campbell Brown says reporters will keep a close eye on recovery.gov.
(CNN) -- Thanks to President Obama's Economic Recovery Plan, the federal government is busy shoveling money out the door as fast as it can.
And everyday, like Thursday, the president reminds us that we have to "spend every dime wisely" with unprecedented levels of transparency and accountability.
We thought you might like to know how much trouble the government is already having keeping track of where the money is going.
The recovery.gov Web site, where people are supposed to report waste or fraud or just follow the money, is getting about 4,000 hits a second. That's what Earl Devaney told Congress Thursday.
Devaney is the president's hand-picked chairman of the Recovery Accountability and Transparency Board, the RAT board for short. I'm not kidding, that's what it's called. And look at this, Devaney says the RAT board isn't really running the Web site yet.
Devaney: "The board is still trying to acquire staff, get our equipment ... phones, computers ... trying to acquire space, which we haven't managed to get yet and just trying to get our heads above water and make sure the board fulfills its responsibilities under the Recovery Act. Our first official board meeting will actually be held next week."
Seven-hundred-eighty-seven billion dollars to manage and they don't even have phones, computers or office space yet? No wonder Devaney followed up that revelation with this sobering prediction.
'No Bias, No Bull'
Get the latest on the day's main events.
8 ET Monday through Friday

Devaney: "I'm concerned that there may be a naïve impression that given the amount of transparency and accountability called for in this act, little or no fraud or waste will occur. I'm afraid that my 38 years of federal enforcement experience informs me that some level of waste or fraud is, regrettably, inevitable."
Devaney told The Wall Street Journal that on average, fraud in business adds up to about 7 percent. Apply that to the $787 billion Recovery Act and that's a jaw-dropping $55 billion in waste and fraud -- $55 billion! Kind of makes those AIG bonuses pale in comparison. The government has a good man at the wheel in Earl Devaney -- he is given credit for, among other things, exposing and bringing down Jack Abramoff. And he's promising his staff will retool the recovery.gov web site as soon as they can.

As far as we're concerned, that can't be soon enough. One more thing -- Devaney says he hopes reporters will keep a close eye on recovery.gov. That we will, sir.
The opinions expressed in this commentary are solely those of Campbell Brown.
E-mail to a friend

All About Barack Obama • National Economy