WASHINGTON (CNN) -- President Obama urged both Democratic and Republican members of Congress Tuesday to provide him with "constructive alternative solutions" if they disagree with any sections of his 2010 budget proposal.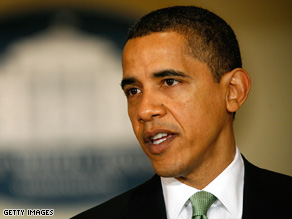 President Obama discusses the budget at the White House on Tuesday.
Late last month, Obama unveiled a $3.55 trillion budget that he said would cut the federal deficit in half by the end of his first term. The deficit for 2009 is projected to reach $1.75 trillion.
Obama made his comments at a news conference in the Eisenhower Executive Office Building after meeting with Senate Budget Committee Chairman Kent Conrad, D-North Dakota, and House Budget Committee Chairman John Spratt Jr., D-South Carolina.
"There's been a lot of discussion about this budget already, and I hope we engage in a healthy debate going forward," Obama said. "The challenges we face are not partisan. We're going to get some numbers with respect to the budget that may make this even tougher in the next couple of weeks."
Given the magnitude of the nation's problems, "we don't need more point scoring, we need more problem-solving. So if there are members in Congress who object to specific policies and proposals in this budget, then I ask them to be ready and willing to propose constructive alternative solutions," Obama said.
"This budget doesn't attempt to solve every problem or address every issue," he said.

Watch Obama discuss the proposed budget »
The 2010 fiscal year begins October 1.
Although the banking crisis has been a major focus of the administration, Obama said there are other issues just as pressing, such as the high cost of health care and the need for non-oil energy sources.
Don't Miss
After Obama announced the budget blueprint on February 26, Republicans criticized it as full of wasteful spending.
"There's been too much spending under the Republicans over the last couple of years, but if you begin to look at what's happen over the last month and what's being proposed in this budget, the president's beginning to make President Bush look like a piker when it comes to spending," said Rep. John Boehner, the House minority leader.
"The era of big government is back, and Democrats are asking you to pay for it," said Boehner, R-Ohio.
Mississippi Rep. Gene Taylor, a conservative Democrat, also blasted the budget outline, saying, "I don't like it ... Change is not running up even bigger deficits than George Bush did."
Taylor noted that he was still reviewing the plan, but he said he was troubled by the additional spending for many government programs on top of the funding agencies received in the economic stimulus bill. He voted against the stimulus.
Taylor pointed to Obama's inaugural address that called for Americans to make sacrifices, saying "It's certainly not reflected in his budget."
Rep. John Tanner, D-Tennessee, a member of the Blue Dog group of 47 fiscally conservative Democrats in the House -- six of whom voted against Obama's stimulus plan -- said Obama at least is being honest about the dire condition of the economy.
"At least the budget that the Obama administration presented, even though it's huge and it's a huge deficit and that enables the other team to beat up on it, the truth is that it's honest and truthful," he said.
Democratic media consultant Steve Murphy, who represents several moderate Democrats, said the Blue Dogs are all "deficit hawks," so they're "nervous about spending."
"They're against giving more money to the banks without any accountability, they want to zero in on wasteful spending and they strongly believe the shrinking deficit and eventual balanced budget was the underpinning of our economic success in the '90s," he said.

Murphy added that these Democrats do, however, realize that more money is going to be needed.
"So I expect them to be about greater accountability and fairness for the taxpayer. They won't join [GOP House Minority Whip Eric] Cantor's 'Hell No' chorus."
E-mail to a friend

CNN's Ed Hornick contributed to this report.
All About Barack Obama • Federal Budget