By Jason Chaffetz
Special to CNN





Editor's Note: Rep. Jason Chaffetz, a Republican, represents the 3rd District of Utah in Congress and is appearing in CNN.com's "Freshman Year" series, along with Rep. Jared Polis, a Democrat from Colorado.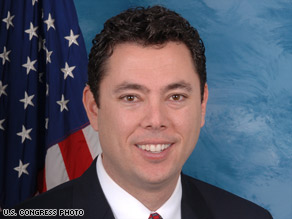 Jason Chaffetz says he and his staff are aiming to identify wasteful government programs to cut.
(CNN) -- The United States Congress inhabits a very different world than the one I came from.
In state government, where I served as chief of staff to a governor, we had to make painful cuts if the budget didn't balance. In my district, people are frugal and, for the most part, uncomfortable with heavy debt loads. But here in Congress, there is a different culture.
Make no mistake -- I have been exceptionally grateful for the open arms and acceptance from the more senior members of Congress and I'm certainly not the only budget hawk here. But I think too many people in this town underestimate the level of fear and concern Americans share over budget issues. This was the No. 1 issue for voters in my district. On the whole, Congress is not getting the message.
For a freshmen legislator such as myself, this culture of unlimited budgets is extraordinary. The proper methodology is not necessarily a perpetuation of the status quo. And that is a good thing.
Although I have great respect for my colleagues on both sides of the aisle, I hope to make my long-term mark here in the fight to instill the principles of fiscal discipline, limited government, accountability and a strong national defense. No doubt every member of Congress is patriotic and cares deeply about our country. But there is a broad range of philosophy and methodology for achieving the greatness that is the United States of America. Some want to grow government. I'm here to ensure personal liberties by limiting government.
Now that I have settled in, my staff and I have rolled up our shirtsleeves and started working to minimize government interference in everyone's lives.
I want to remind Congress what my constituents already know: We cannot be all things to all people. In my opinion, we have to cut the size and scope of government. Further, we cannot continue to run this country on a credit card. We are racking up unimaginable and unsustainable debt. I was sent here to join those who would fight for accountability. That is my priority.
Don't Miss
Consequently, my staff and I are working to identify ineffective and inefficient government programs that we no longer have the luxury of funding. Some of these programs have noble goals, but they don't pass the cost-benefit analysis. Others are more appropriately administered at the local level.
Starting a new program seems to be relatively easy compared to cutting something in the federal bureaucracy. It's much easier to be the party of "yes" than the party of "no" when it comes to spending in this town. But I didn't come here to take the easy path. There are nearly 1,200 federal programs. We can live without many of them. Such as a World War II era program that uses taxpayer dollars to subsidize mohair.
The president said he wants to go "line by line" to weed out unnecessary spending. I plan to give him some help. My constituents are more than willing to join the fight. In each of my offices we keep a binder full of business cards from people who visit our office. On the back of each card, the visitor has written one idea for making government smarter, smaller and more efficient. My staff continues to work with me to identify programs to put on the chopping block. I welcome suggestions!
I have no doubt that cutting something in government will be exceptionally difficult. There will be roadblocks at every turn. Washington is not known for shrinking. I often joke that a billion dollars is merely a rounding error here. But I firmly believe the American people are behind me. They want us to show fiscal restraint.
So, I take this as a personal challenge. Who knows how many years it will take to dismantle even the most basic of programs in such an entrenched bureaucracy? But I'm up for it. This is the fight my constituents sent me here to wage. Who's in?
The opinions expressed in this commentary are solely those of Jason Chaffetz.
E-mail to a friend

All About Federal Budget • Barack Obama • Federal Deficits