Editor's note: Campbell Brown anchors CNN's "Campbell Brown: No Bias, No Bull" at 8 p.m. ET Mondays through Fridays. She delivered this commentary during the "Cutting through the Bull" segment of Monday night's broadcast.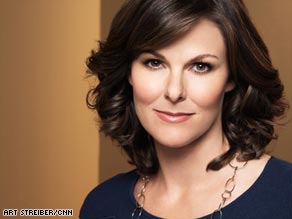 CNN's Campbell Brown says Joseph Cassano, formerly of AIG, is at the center of what ails the American economy.
(CNN) -- All this week, as part of CNN's focus on the Road to Rescue, we're going to name names. We are going to introduce you this week to five new inductees into our Rogues Gallery. And given today's news, our obvious first choice is the man many say played a big role in AIG to its knees: Joseph Cassano. He was once head of AIG's financial products unit. He left the company last March.
If you want to find the epicenter of the earthquake that threatened to crumble the American economy, the fault line goes right through Cassano's office in London. It was Cassano who championed those now infamous credit default swaps as a way to jack-up profits in a hurry. In so doing, he took a huge gamble, didn't worry about the odds, and -- when the credit crisis hit Cassano, AIG, and all of us -- ended up losing big.
Now, no one disputes risk is often a part of doing business, but some suggest Cassano also employed this strategy in the shadows. Documents obtained by House Committee on oversight and government reform show the company's auditor, Price Waterhouse Coopers, raised questions a year ago about transparency and complained about a lack of access to the financial products unit.
Another auditor told the committee in a letter that he quit because Cassano wouldn't allow his input, allegedly saying he would "pollute" the process. Cassano bragged about those doing business with his company, yet refused to name any of them. And because he was bringing in so much money, AIG let him operate this way. Along with the secrets, Cassano, and his superiors, were either blind to the risk or simply refused to acknowledge it.
'No Bias, No Bull'
Get the latest on the day's main events.
8 ET Monday through Friday


According to The New York Times, barely a year before AIG's near-collapse, Cassano said, "It is hard for us, without being flippant, to even see a scenario within any kind of realm of reason that would see us losing one dollar in any of those transactions." That's unacceptable as so many were depending on AIG to remain strong and smart about what it was doing.
Today when President Obama spoke of "recklessness and greed" leading to the downfall of the financial behemoth, one can't help but wonder if he had Joseph Cassano on his mind. Well, he's certainly on ours as we welcome Cassano to the gallery. By the way, we've tried to reach Cassano for a response. We have not heard back.

The opinions expressed in this commentary are solely those of Campbell Brown.
E-mail to a friend

All About National Economy • SEC Activities