From Dana Bash and Deirdre Walsh
CNN





WASHINGTON (CNN) -- California Democratic Rep. Maxine Waters maintains she did nothing wrong when she sought federal help last fall for a minority-owned bank in which her husband owns stock.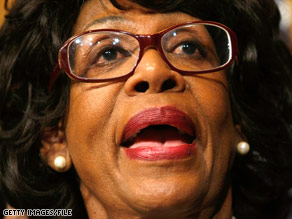 Rep. Maxine Waters is under fire for asking for help for a bank in which her husband holds stock.
Waters, a senior member of the House Financial Services Committee, confirmed Friday that she set up a meeting in September with Treasury Department officials to address concerns from minority-owned banks affected by the government takeover of Fannie Mae and Freddie Mac, including OneUnited Bank.
Waters' husband, Sidney Williams, had been on the board of OneUnited Bank until April, and still owns stock that was worth between $250,000 to $500,000 at the end of 2007, when Waters last filed congressional disclosure forms.
According to The New York Times, the chief executive of OneUnited used the meeting to ask for $50 million in bailout funds. The Times reported that Treasury officials attending the meeting, including Jeb Mason, did not know at the time about Waters' ties to OneUnited Bank. Waters did not attend the meeting but did send her chief of staff.
In a statement released Friday, Waters said the meeting with Treasury officials was requested by the National Bankers Association, the trade organization for minority-owned banks and that she followed up on the request, as did other members of Congress.
"Recent press reports have raised questions about my advocacy on behalf of minority banks. Ultimately, however, these articles only revealed one thing: I am indeed an advocate for minority banks," said Waters.
"Although both my supporters and detractors often refer to me as influential, the truth is that I had no influence on what Bush Administration officials in the Treasury Department or other departments did."
Waters' statement doesn't address the issue of whether she disclosed her husband's position with OneUnited Bank when seeking the meeting with the Treasury Department.
House Financial Services Chairman Barney Frank was aware of Waters' potential conflict of interest, according to Frank spokesman Steve Adamske, who said Frank told Waters he would work with then-Treasury Secretary Henry Paulson to add a provision to the Troubled Assets Relief Program (TARP) legislation dealing with minority-owned banks.
"Our staff worked on it. We never talked to anybody in Waters' office about it," said Adamske.
Adamske said the Treasury Department ultimately granted OneUnited Bank $12 million.
Mason, the Treasury official, told the Los Angeles Times that Waters' connection did not influence the Treasury Department's decision to grant OneUnited the bailout funds, but said Waters was a key figure in setting up the meeting that led to it.
"When a member of the financial services committee calls, you pay special attention," Mason told the Los Angeles Times.
Waters said she was not trying to get bailout funds specifically for the bank her husband has ties to, but to all minority-owned banks.
"I maintain that my advocacy on behalf of small, women, minority and community banks is appropriate. I will continue to bank and do business with minority depository institutions and work on behalf of my constituents, and the institutions that serve them," Waters said.
E-mail to a friend

All About U.S. Department of the Treasury • U.S. House Committee on Financial Services • Barney Frank