WASHINGTON (CNN) -- President Obama has two vacant Cabinet positions, more at this point in his term than any other recent president.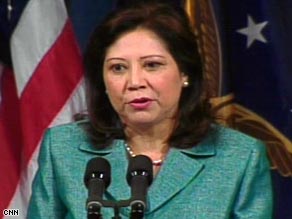 Labor Secretary Hilda Solis becomes the newest member of President Obama's Cabinet after being sworn in Friday.
Obama hasn't filled the top posts at the Commerce and Health and Human Services departments. The president has named candidates for those positions, but the Senate hasn't confirmed them.
President Clinton had two lingering Cabinet vacancies almost two months into his second term, but the Senate confirmed his pick for energy secretary on March 12, 1997. Clinton's other vacancy was for the labor secretary post, which the Senate filled on April 30 of that same year.
In 1989, President George H.W. Bush had four Cabinet vacancies heading into March of his first year in office, but the Senate confirmed his picks for energy secretary and health and human services on March 1 and his veterans affairs secretary nominee on March 2.
Bush's fourth vacancy, which was for secretary of defense, was filled by March 17.
The length of time Obama is taking to complete his Cabinet has surprised some political observers. The president announced his Cabinet picks at a rapid clip after November's election, but some nominees quickly became entangled in tax and ethics problems.

Interactive: Cabinet vacancies by president »
New Mexico Gov. Bill Richardson bowed out of the running for commerce secretary on January 5, citing the distraction of a federal investigation into ties to a company that has done business with his state.
Republican Sen. Judd Gregg of New Hampshire, Obama's second commerce pick, cited "irresolvable conflicts" with the administration over the economic stimulus bill when he withdrew his name from consideration on February 12.
Former Washington Gov. Gary Locke is the president's third choice to head the Commerce Department.
Obama joked during Locke's announcement that he is "a big believer in keeping at something until you get it right."
Former Sen. Tom Daschle, D-South Dakota, who was selected to be secretary of health and human services, withdrew on February 3 after controversy erupted over his tax records and questions over his work in a field that some consider lobbying.
Kansas Gov. Kathleen Sebelius is Obama's new pick for that position.
Former Rep. Hilda Solis was sworn in as labor secretary Friday.
"When it comes to standing up for expanding this economy for all people, no one is going to be a stronger voice than the new secretary of labor," Vice President Joseph Biden said.

"When it comes to standing for those who are in the workplace every day -- for their health, their safety, for fair treatment -- she's always there," he added. "She's prepared to fight and she knows what it takes to get things done."
The Senate voted 80-17 to confirm Solis, a four-term Democratic congresswoman from California, after a review of a possible tax controversy surrounding her husband briefly delayed consideration of her nomination.
E-mail to a friend

CNN's Robert Yoon contributed to this report.
All About Barack Obama • Kathleen Sebelius • Hilda Solis