(CNN) -- House Speaker Nancy Pelosi said Thursday there are no immediate plans for a second stimulus package, but she didn't rule out the possibility of having one in the future.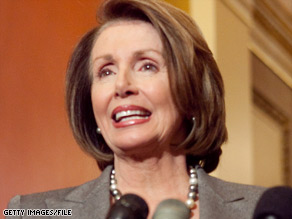 House Speaker Nancy Pelosi suggested earlier this week that more stimulus spending might be needed.
"I don't think you ever close the door to being prepared for what eventually may come, but I think that is not a near, near thing," she said at a news conference.
President Obama last month signed into law a $787 billion stimulus package. Pelosi said her preference is to see how that works before moving on to an additional stimulus package.
"It's just not something that, right now, is in the cards," she said."
Earlier this week, Pelosi suggested more stimulus spending might be needed, and the top Democrat on the Appropriations Committee, David Obey, said he had already instructed his staff to begin working on a bill.
One leadership aide said Obey, D-Wisconsin, got ahead of himself when he told CNN on Tuesday evening that his committee was considering another stimulus package, though he had cautioned there was no timeline for moving it.
While most Democrats are pushing back from the idea of a second stimulus, Rep. Alcee Hastings indicated Wednesday that there is an active dialogue about the subject.
"Our leader, Nancy Pelosi, has called for us to examine whether there should be a second stimulus package," said Hastings, D-Florida. "If it's going to infrastructure, if it's going to roads, if it's going to the kinds of things we can show clearly and demonstrably that it is going to provide jobs -- not preserve jobs, provide jobs -- then you're damned right I'm for stimulus two, three, four, five and whatever it takes to stabilize this nation."
Sen. Max Baucus, chairman of the Finance Committee, said talk of another stimulus is "just a rumble" so far.
"I hear about it. I just don't know," said Baucus, D-Montana. Baucus, who played a key role in crafting the first stimulus, shook his head "no" when asked if he was working on a second plan.
Multiple Democratic aides have told CNN another stimulus plan is not in the works, and that Democratic leaders believe they need time to assess whether the first recovery package is effective before taking up another bill.
Reacting to reports of a second stimulus bill, Tennessee Republican Sen. Lamar Alexander told reporters Wednesday, "We don't even know what was in the first stimulus bill package yet."
Referring to the budget recently outlined by Obama and the stimulus package just enacted, Alexander said, "I believe this is more spending, more taxes, and more debt than most American families expected or than most American families can afford."
House Republican Conference Chairman Mike Pence, R-Indiana, piled on.
"I think the fact that Democrats are already talking about 'stimulus two' suggests that Democratic leadership has apparently concluded that their stimulus bill has already failed," he said. "That's fairly remarkable after just a couple of weeks."
Pence said if there is a second stimulus, Republicans would fight for more tax relief for small business and families instead of more government spending.
E-mail to a friend

CNN's Lisa Desjardins, Kristi Keck, Brianna Keilar and Deirdre Walsh contributed to this report.
All About Nancy Pelosi • Economic Stimulus • Democratic Party • Republican Party