By Paul Steinhauser
CNN Deputy Political Editor





WASHINGTON (CNN) -- ­New poll numbers in New Jersey spell more trouble for Gov. Jon Corzine's bid for re-election. The poll could also be a sign that the country's severe recession may take a toll on incumbents running for re-election.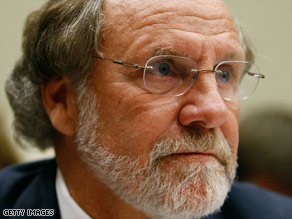 Half of those polled disapprove of the job Democratic New Jersey Gov. Jon Corzine is doing.
A Quinnipiac University poll of New Jersey registered voters released Thursday indicates that Corzine trails Chris Christie, his likely Republican challenger in this year's general election campaign, by 9 points in a hypothetical matchup.
Christie's lead is up from a 6-point margin in a Quinnipiac poll in February, despite relatively low public knowledge about the former U.S. attorney -- 61 percent of those questioned in the survey said they don't know enough about Christie to form an opinion.
Half of all voters disapprove of the job Corzine is doing as governor, with 40 percent approving of how he's performing. And 53 percent of those questioned said Corzine doesn't deserve to be re-elected, with 34 percent saying he does deserve a second term.
The Quinnipiac poll follows a Fairleigh Dickinson University survey released last week that showed similar results.
"This poll fits into a pattern we have been seeing for a while," said CNN Polling Director Keating Holland. "Corzine's approval rating has been below 50 percent since 2007, and some polls have shown Corzine tied with Christie or behind him since last August. This economy may create tough sledding for many incumbents, and the fact that Corzine has a Wall Street background can't help."
Forty-seven percent of those questioned in the survey say things have gotten worse in New Jersey since Corzine became governor in 2006, with 42 percent saying things have stayed the same and just eight percent feeling that things have gotten better.
Don't Miss
"There are no good numbers for Gov. Jon Corzine in this poll," said Clay F. Richards, assistant director of the Quinnipiac University Polling Institute. "And since it was taken before his draconian budget was released, his numbers could be even worse today."
But don't write Corzine off just yet.
"Considering that Corzine hasn't even started his re-election campaign and will spend millions of dollars of his own money when he finally does, and that Republicans haven't won statewide in New Jersey in a dozen years, Republicans may want to keep that champagne on ice before they start putting this contest into the win column," said Nathan Gonzales, political editor of the nonpartisan Rothenberg Political Report.
National Republicans are eager for wins this November in New Jersey and Virginia, the two states holding off-year gubernatorial elections. They call both contests referendums on Democrats in power.
Republicans hope that victories this November in the two gubernatorial contests would be the tip of the iceberg for the 2010 midterm elections.
"If Gov. Corzine is defeated, it could signal problems for all incumbent governors next year. Because many of Corzine's problems -- a bad economy, tough budget decisions -- are not unique. And midterm elections tend to be referendums on governors. They're in charge," said CNN Senior Political Analyst Bill Schneider.
The Quinnipiac University poll of 1,386 New Jersey registered voters was conducted by telephone March 4-9. The survey's sampling error is plus or minus 2.6 percentage points.
E-mail to a friend

All About Jon Corzine • Republican Party • Democratic Party