By Chris Lawrence
CNN Pentagon Correspondent





WASHINGTON (CNN) -- While the president has said states asked to deploy troops to the U.S. border with Mexico, the Pentagon has not received specific requests to do so, a Pentagon spokesman said Thursday.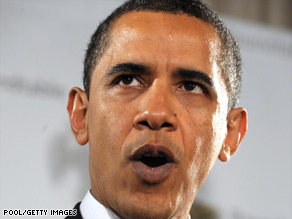 President Barack Obama says the United States is exploring how it can help Mexico's drug war.
The Defense Department is concerned about the escalating drug cartel violence in Mexico, and the U.S. government is in the process of determining if it can provide additional means to help the Mexican government, spokesman Bryan Whitman said.
President Barack Obama on Wednesday told reporters that he's taking under advisement requests to deploy National Guard troops to the U.S.-Mexico border.
Texas Gov. Rick Perry made an urgent call for up to 1,000 more troops, he said.
The United States is currently providing the Mexican government with five helicopters, a Marine surveillance vehicle and handheld scanners, Whitman said.
Any troops that might be sent would protect only the U.S. side of the border, he added, and there are no discussions of sending American troops into Mexico. He said it would be premature to speculate on how many could be sent.

Watch more on U.S.-Mexico border problems »
The military is making "overtures" to see if there are ways the United States can help, he said, and how that could be translated into specific military participation.
Adm. Michael Mullen, chairman of the Joint Chiefs of Staff, traveled to Mexico last week. He spoke of the the need to work more with Mexico's military in a speech Wednesday night to the Young Professional Foreign Policy group.

The violence continues to rise in Mexico because the government is taking on the drug cartels more directly, and the United States needs to help, Mullen said.
"There is the opportunity to work cooperatively ... in ways that we haven't in the past," Mullen said. "And certainly the impact [the violence in Mexico] has on our borders is something that has gotten an awful lot of people's attention."
E-mail to a friend

All About Mexico • United States • Crime • Illegal Drugs • Rick Perry