Editor's note: Campbell Brown anchors CNN's "Campbell Brown: No Bias, No Bull" at 8 p.m. ET Mondays through Fridays. She delivered this commentary during the "Cutting through the Bull" segment of Thursday night's broadcast.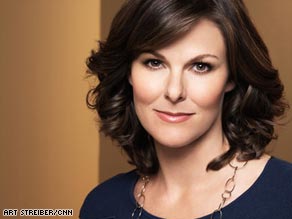 CNN's Campbell Brown says the SEC should have listened to whistle-blower Harry Markopolos.
(CNN) -- While Bernie Madoff will never walk the streets again, there's still a lot of explaining to do, not just by Madoff and his family, but at the Securities and Exchange Commission, whose bungling of the investigation likely cost Madoff's victims even more money.
Just Wednesday, new SEC Chairman Mary Schapiro told a congressional panel that rewards might be a good way to help bring in leads, the details of which are often ready to go thanks to whistle-blowers. Gee, you think?
The SEC wouldn't have had to shell out a dime when Harry Markopolos tried to deliver the Madoff corruption probe on a silver platter starting four years ago. Look at what he told CBS' "60 Minutes" recently as he detailed his repeated attempts to get the SEC's attention.
Harry Markopolos: "It took me five minutes to know that it was a fraud. It took me another almost four hours of mathematical modeling to prove that it was a fraud.... All the SEC had to do was pick up the phone. They never did."
Markopolos, as we all know by now, was ignored until it was too late. The latest guess by investigators puts the amount of stolen assets as high as $64 billion. To be fair, Schapiro didn't take over until January and she is right to try and get funding to hire more staff, from the current dismally low number of 400 investigators keeping an eye on more than 10,000 investment advisers, any of whom could be the next Madoff.
But a bigger team and big paydays for tipsters will only be a waste of time and money if the SEC continues to ignore those with the proof, and more importantly, the courage needed to come forward and point out what so many missed -- evil, greed, and flat-out financial rape committed by the likes of Bernie Madoff.
Remember, the rage among victims goes beyond one man's personal web of deceit.
'No Bias, No Bull'
Get the latest on the day's main events.
8 ET Monday through Friday

Loretta Weinberg, Madoff victim and member of the New Jersey State Senate: "I don't think one needs a master's degree in investigation techniques to figure out that the first thing you do is find out: Did he make buys? Did he make sells? What's going on here? The fact that our own government failed us, especially as someone who is an elected official, makes me almost even angrier [at the SEC] than I am at Bernie Madoff."

As Madoff spends the first night of the rest of his life behind bars, his victims may have some cause to celebrate. The SEC certainly does not. Let us hope the investigation it now has under way into its own catastrophic blunders will produce real results.
The opinions expressed in this commentary are solely those of Campbell Brown.
E-mail to a friend

All About National Economy • SEC Activities • Bernard Madoff