By Jim Acosta and Ed Hornick
CNN






WASHINGTON (CNN) -- Some Democrats are increasingly concerned about President Obama's $787 billion financial fix for the ailing economy, and are demanding greater transparency on further spending.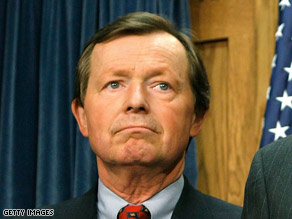 Rep. Earl Pomeroy, D-North Dakota, says there are big concerns over talk about a second stimulus package.
With the White House seemingly comparing the nation's economy to a house on fire, some congressional Democrats are asking, where's the fire truck?
One New Hampshire congresswoman said as much to Treasury Secretary Tim Geithner on Capitol Hill recently.
"I said, hurry, please hurry, because people are waiting and they are hurting, and they need the help now," Rep. Carol Shea-Porter, D-New Hampshire, said.
She's one of a growing number of nervous Democrats on edge or at odds with some of the Obama's administration's plans on the economy. Some are taking aim at the president's budget proposals that would curb popular tax deductions for wealthier Americans.

Watch more on why some Democrats are nervous »
"I don't think ultimately the criticism is surprising. That certainly happens and is all part of the process," said White House Press Secretary Robert Gibbs.
As a nod to moderate concerns, Obama took steps to make his budget more transparent. He included items former President George W. Bush passed separately in recent years to obscure the true operating cost of the government, such as the money for the wars in Iraq and Afghanistan, an annual multibillion-dollar fix of the fees Medicare pays physicians and Alternative Minimum Tax relief for the middle class.
Don't Miss
Sen. Evan Bayh, D-Indiana, who along with Nebraska Democrat Ben Nelson and Connecticut Independent Joe Lieberman is one of the so-called Gang of 15 -- a coalition of moderate Democratic senators -- says it's all about the messaging.
"Like getting health care costs under control is important to the economy and getting the deficit down," he said. "Sustainable sources of energy at reasonable prices is also important to the economy. Dealing with the financial crisis is obviously important to the economy."
Bayh added: "So what needs to be done is, Obama's got to move on all these fronts but also integrate them back to the same theme of always strengthening the economy, getting people to work, growing businesses, improving our standard of living."

Watch more of Obama's solutions for the economy »
Rep. John Tanner, D-Tennessee, is a member of the "Blue Dog" group of 47 fiscally conservative Democrats in the House -- six of whom voted against Obama's stimulus plan. He said Obama at least is being honest about the dire condition of the economy.
"At least the budget that the Obama administration presented, even though it's huge and it's a huge deficit -- and that enables the other team to beat up on it -- the truth is that it's honest and truthful," he said.
Democratic media consultant Steve Murphy, who represents several moderate Democrats, said that Blue Dogs are all "deficit hawks," so they're "nervous about spending."
"They're against giving more money to the banks without any accountability, they want to zero in on wasteful spending and they strongly believe the shrinking deficit and eventual balanced budget was the underpinning of our economic success in the '90's," he said.
Murphy added that these Democrats do, however, realize that more money is going to be needed.
"So I expect them to be about greater accountability and fairness for the taxpayer. They won't join [GOP House Minority Whip Eric] Cantor's 'Hell No' chorus."
And that is something resonating with House Speaker Nancy Pelosi who said top economists told her a second stimulus package may be necessary.
"You have to keep the door open to see how this goes," she said.
House Democrats, CNN has learned, heard that message in a meeting with top economists, who predicted the president's stimulus plan will fall short of saving or creating three to four million jobs, as he promised.
"Over the first two years about 2 1/2 million jobs saved and created," said economist Allen Sinai. "A little less than the administration and perhaps Speaker Pelosi has said ... the jobs created may be a little disappointing."
Sinai said that over time, the economy may produce the jobs president Obama promised, but that people should try to be patient.
But budget hawks in the party don't like the sound of that.
"I mean, if we were to take a vote this afternoon, the stimulus package would probably fail," said Rep. Earl Pomeroy, D-North Dakota. "If they want substantial, more public funds committed, they're going to have to go out there and explain precisely how this is going to work."
Shea-Porter said she's simply on the message she's getting at town meetings back home, a message that's also aimed at some in the media.
"It's terrifying people. Before, people were very optimistic and the leaders were optimistic. Then we hit a spell here where we're hearing a lot of media ... people who are frightening without necessarily giving both sides," she added.

For now, the White House says it has no plans for another stimulus, arguing its plan needs time to work.
In other words, the fire is not out yet.
E-mail to a friend

CNN's Dana Bash and Time.com's Jay Newton Small contributed to this report.
All About Barack Obama • Democratic Party • U.S. National Economy