From Brianna Keilar and Deirdre Walsh
CNN





WASHINGTON (CNN) -- House Democratic aides denied Wednesday that work is already underway on a second stimulus package.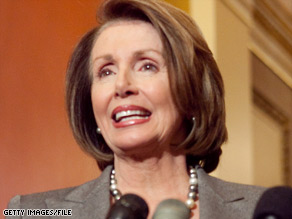 On Tuesday House Speaker Nancy Pelosi suggested more stimulus spending might be needed.
The pushback came a day after House Speaker Nancy Pelosi suggested more stimulus spending might be needed, and the top Democrat on the Appropriations Committee said he had already instructed his staff to begin working on a bill.
But multiple Democratic aides told CNN another stimulus plan is not in the works, and that Democratic leaders believe they need time to assess whether the first recovery package is effective before taking up another bill.
One leadership aide said House Appropriations Chairman David Obey of Wisconsin got ahead of himself when he told CNN Tuesday evening that his committee was considering another stimulus package, though he had cautioned there was no timeline for moving it.
This aide said House Democratic leaders are letting the current stimulus play out, and that it will be "at least several months, as we get toward the end of the year and see where we are" before they would consider another stimulus bill.
Another Democratic aide said the appropriations committee "is not putting pen to paper. We think it's too soon to do [a second stimulus] now."
Pelosi spokesman Brendan Daly said in a statement, "As the speaker indicated, Congress will continue to closely monitor economic conditions to determine if further action is needed to stimulate the economy."
Don't Miss
Asked if there is a contingency plan or discussions behind the scenes on a second stimulus plan, one leadership aide insisted there were none, saying the contingency plan is to let the Obama administration's housing and financial stabilization programs run their course.
Reacting to reports of a second stimulus bill, Tennessee Republican Sen. Lamar Alexander told reporters Wednesday, "We don't even know what was in the first stimulus bill package yet."
Referring to the budget recently outlined by President Barack Obama and the stimulus package just enacted, Alexander said, "I believe this is more spending, more taxes, and more debt than most American families expected or than most American families can afford."
House Republican Conference Chairman Mike Pence, R-Indiana, piled on.
"I think the fact that Democrats are already talking about 'stimulus two' suggests that Democratic leadership has apparently concluded that their stimulus bill has already failed," he said. "That's fairly remarkable after just a couple of weeks."
Pence said if there is a second stimulus, Republicans would fight for more tax relief for small business and families instead of more government spending.
E-mail to a friend

All About Nancy Pelosi • Barack Obama • Economic Stimulus • Democratic Party • Republican Party