Editor's note: Campbell Brown anchors CNN's "Campbell Brown: No Bias, No Bull" at 8 p.m. ET Mondays through Fridays. She delivered this commentary during the "Cutting through the Bull" segment of Wednesday night's broadcast.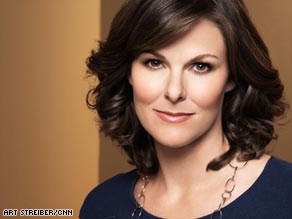 CNN's Campbell Brown says Nickelodeon took the cowardly way waiting for Chris Brown to withdraw from awards.
(CNN) -- There's news tonight in the case of Chris Brown.
As you know, he's charged with assaulting his girlfriend, pop star Rihanna. Today, Brown finally realized, no doubt with the help of his publicist, that it would be inappropriate to keep his name in consideration for the Kids' Choice Award program being held later this month on the Nickelodeon cable network.
Brown has a lot to answer for when he goes before the judge to face felony charges, but Nickelodeon, in my view also has a lot to answer for now given its cowardly response.
As we told you last night, the channel refused to take Brown out of the running, saying he was nominated by kids months ago ... it is for the kids to decide.

Watch Campbell Brown talk about Nickelodeon »
Never mind the fact he stands accused of a heinous crime against an innocent woman, and never mind the fact a national audience of kids could naturally assume his nomination (and possible win) must mean everything is somehow OK.
It's a position Nick stuck by even as we, and others, received an avalanche of comments from people blasting the decision.
'No Bias, No Bull'
Get the latest on the day's main events.
8 ET Monday through Friday

Only after Brown, himself, chose to withdraw did the network release a meager statement saying it agrees with his decision.
So where were you when it counted, Nickelodeon? Why is it that even Chris Brown had the common sense to do what you were afraid to?
Don't forget, families let their kids watch channels like Nick because of an implied trust. iReport.com: Chris Brown fans: Share your reaction

You have a moral responsibility to react better and faster next time the real world and entertainment clash.
The opinions expressed in this commentary are solely those of Campbell Brown.
E-mail to a friend

All About Chris Brown • Rihanna • Nickelodeon Networks