By Elise Labott
CNN State Department Producer





(CNN) -- The practice of dealing with your enemy has a name; it's called realism. And for the Obama administration -- in the Middle East and around the world -- it rules the day.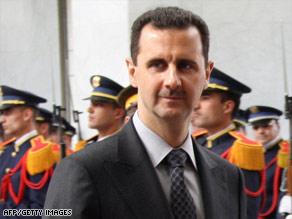 The Obama administration's success in the Middle East could rest with Syria and its president, Bashar al-Assad.
Villains, axis of evil and isolation are out. "Constructive actors," axis of engagement and "let's make a deal" are in.
Syria's extended isolation isn't over because of some grand new attitude from Damascus, but in spite of it. Syrian President Bashar al-Assad appeared to patiently wait out eight years of rhetoric, sanctions and closed doors, predicting Washington would eventually see Syria's strategic importance in the region and come knocking.
President Obama's foreign policy strategists knocked, after reaching the unhappy conclusion that the road to peace in the Middle East runs through Damascus and, ultimately, through Tehran, the capital of Iran.
Assistant Secretary of State Jeffrey Feltman, the former U.S. ambassador to Lebanon, traveled to Damascus as Gaza lay in ruins and Iran creeps toward having a nuclear weapon.
U.S. concerns about Syrian support for Hamas and Hezbollah remain, as does the desire for Syria to stop meddling in Lebanon and help stop jihadists from crossing its border into Iraq. But the "to-do" lists reminiscent of the Bush administration have been replaced by the Obama administration's new cooperative tone.
Don't Miss
Instead of ordering Syria to kick Hamas leaders out of the country, it's "what can you do to help moderate Hamas?" And Washington is now asking Damascus to help tamper Iran's nuclear ambitions, even as it considers engaging Tehran directly.
Shunned by the Bush administration, peace talks with Israel have been embraced by Team Obama as a clever way to jumpstart stalled Israeli-Palestinian negotiations and possibly help solve the jigsaw puzzle of problems in the Middle East.
This weekend in Turkey, which has been mediating indirect talks between Israel and Syria, Secretary of State Hillary Clinton said what Damascus has longed to hear: The importance of peace talks between Syria and Israel "cannot be overstated."
Although the official line is that Israeli-Palestinian negotiations are Washington's primary focus, privately officials acknowledge that it is far more complex, with the Palestinians divided and Hamas barely sticking to a cease-fire with Israel.
For the U.S., a deal between Israel and Syria is simple with a clear endgame: Israeli withdrawal from the Golan Heights in exchange for a full peace agreement with Syria. Damascus is willing to make Washington's concerns a distant memory for the bargain basement prices of mediating an Israel-Syria peace deal.
Imad Moustapha, the Syrian ambassador to the U.S., told me, "If the U.S. engages in a forceful way with the Israel-Syrian peace process, which doesn't conflict with its own objectives, all of these issues will disappear because they are derived from the lack of peace in the region."
Clinton has said that Feltman's trip to Damascus, and his meeting with Moustapha earlier this month, was an effort to "test the waters," and then judge Damascus's intention to change its policies. Officials and analysts alike say that the key to that is to convince Damascus its long-term interests lie with the West, not with Iran.
That sounds like a good game plan, except that Syria wields much of its leverage in the region from its ties to groups such as Hezbollah and Hamas.
For Assad, breaking with them and Iran only weakens Syria's regional leverage and threatens his own grip on power. But with Syria's economy in tatters because of the global economic crisis and declining oil prices, a lifting of U.S. sanctions could provide an opening.
An improved Syria economy, coupled with U.S. security guarantees and a peace deal with Israel, could limit Iran's influence over Damascus and in the region.
The question is whether the "common ground" Feltman said he found in Damascus is real or perceived, permanent or fleeting.
Will Syria stop intervening in Lebanon and serving as a bridge between Iran and Hezbollah? Will the flow of insurgents crossing Syria's border into Iraq stop? The record isn't good.
A long list of U.S. officials before Feltman has left Damascus optimistic only to be disappointed by the time they got back to Washington. For Obama, it's a risky proposition that could yield huge payoffs or devastating losses.
He could transform the Middle East and move closer to the Arab-Israel peace that has eluded U.S. presidents for decades. Or he could gamble away U.S. leverage with Syria and Iran only to find he hasn't achieved much.
E-mail to a friend

All About Syria • Golan Heights • Bashar Assad • Israel • Barack Obama • Middle East • Lebanon