From Paul Steinhauser
CNN Deputy Political Director






WASHINGTON (CNN) -- President Obama is halfway through his first 100 days in office and he's still enjoying a honeymoon with the American public, according to an average of recent polls.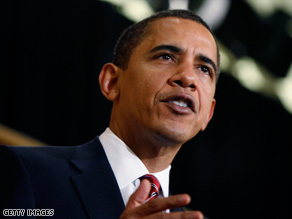 President Obama's approval ratings are still high, according to a recent CNN poll of polls.
Obama's job approval rating stands at 61 percent in a new CNN poll of polls, which averaged seven national surveys conducted over the past two weeks.
"Obama's support is not as high as it was during the transition period and immediately after the inauguration, but approval from six in ten Americans is a pretty robust level of support," said CNN polling director Keating Holland.
The 61 percent approval rating is also slightly higher than his predecessors' numbers around the same time. President Bush stood at 58 percent around 50 days into his administration. President Clinton was at 53 percent, President George H.W. Bush was at 56 percent and President Reagan was at 60 percent.
With the country mired in a severe recession, the overwhelming issue for Americans is obviously the economy. But while the stock markets don't seem to have much confidence in Obama, the polls suggest Americans do.
"Patience is wearing thin in Washington and on Wall Street, where people are demanding a quick turnaround. But the public is much more patient," said CNN senior political analyst Bill Schneider. "Americans think the recession is likely to last two years or more, and at the moment they have confidence in the president's ability to turn things around."

Watch more on how Obama is doing in office »
So far, the vast majority of people don't blame Obama for the recession. And three out of four people questioned in a recent CNN/Opinion Research Corporation poll had confidence that the president would make the right economic decisions to help the country escape the recession.
That's much higher than the 30 percent who had confidence in Wall Street to make the right calls when it comes to the economy.
It's also higher than the 53 percent who had confidence that Congressional Republicans would make the right economic decisions.

"The real test for Obama and the Democrats won't come until the midterm elections in 2010," Holland added. "By then it is likely that Americans will think Obama is responsible for the condition of the economy at that time.
"But even if the economy remains in poor shape, the GOP will need an economic plan of their own to convince voters that they could do a better job than the Democrats."
E-mail to a friend

All About Barack Obama