WASHINGTON (CNN) -- Prominent scholars and experts are urging President Obama to adopt strong policies backing democracy in the Middle East.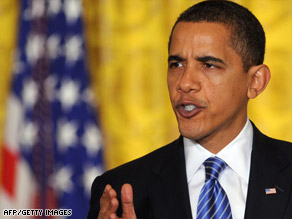 A letter from scholars and experts notes President Obama has taken steps to reach out to the Middle East.
More than 140 people signed an open letter to the president. Its message will be the topic of a news conference Tuesday at the National Press Club in Washington.
"We urge you to elevate democratic reform and respect for human rights as key considerations in your engagement with both Arab regimes and Arab publics," the letter said.
"We are writing this letter to raise our profound belief that supporting democrats and democracy in the Middle East is not only in the region's interests, but in the United States' as well."
The signees hail from the United States and across the globe. They include college professors, members and heads of think tanks, and activists.
Among them are Egyptian democracy activist Saad Eddin Ibrahim; former deputy prime minister of Malaysia, Anwar Ibrahim; Johns Hopkins University professor Francis Fukuyama; Robert Kagan of the Carnegie Endowment for International Peace; Rabbi Michael Lerner of the Network of Spiritual Progressives; Morton Halperin, former director of policy planning staff at the U.S. State Department; and Jennifer Windsor, executive director of Freedom House.
The letter congratulated Obama on his election and said his "presidency presents a historic opportunity to chart a new course in foreign affairs, and particularly in the troubled relationship between the United States and the Muslim world."
Don't Miss
It said the signees are pleased by his "promise to listen to and understand the hopes and aspirations of Arabs and Muslims" and said the administration's closing of the Guantanamo Bay, Cuba, detention facility and the forbidding of torture "will inspire greater confidence between the United States and the Muslim world."
And it noted Obama's "call for mutual respect" in his recent interview with Al-Arabiya, an Arabic-language television network.
"Reaching out to the people of the region so early on in your presidency is a step of no small significance. But it is a step that must be followed by concrete policy changes."
The letter said U.S. policy toward the Middle East has been "fundamentally misguided" and that must change.
"The United States, for half a century, has frequently supported repressive regimes that routinely violate human rights, and that torture and imprison those who dare criticize them and prevent their citizens from participation in peaceful civic and political activities.
"U.S. support for Arab autocrats was supposed to serve U.S. national interests and regional stability. In reality, it produced a region increasingly tormented by rampant corruption, extremism and instability."
The authors also said that while the Bush administration gave democratic change lip service, it "quickly turned its back on Middle East democracy after Islamist parties performed well in elections."
"This not only hurt the credibility of the United States, dismayed democrats and emboldened extremists in the region, but also sent a powerful message to autocrats that they could reassert their power and crush the opposition with impunity."
The letter said that people in the region support democracy.
"What they need from your administration is a commitment to encourage political reform not through wars, threats or imposition, but through peaceful policies that reward governments that take active and measurable steps toward genuine democratic reforms."
It said, "American policy in the Middle East has been paralyzed by fear of Islamist parties coming to power."
While "some of of these fears are both legitimate and understandable," the letter emphasized that most mainstream Islamist groups in the region are nonviolent and respect the democratic process."
It cited Turkey, Indonesia and Morocco as places where a democratic election process "has moderated Islamist parties and enhanced their commitment to democratic norms."
E-mail to a friend

CNN's Joe Sterling contributed to this report.
All About Barack Obama • Middle East • George W. Bush