Editor's note: Campbell Brown anchors CNN's "Campbell Brown: No Bias, No Bull" at 8 p.m. ET Mondays through Fridays. She delivered this commentary during the "Cutting through the Bull" segment of Tuesday night's broadcast.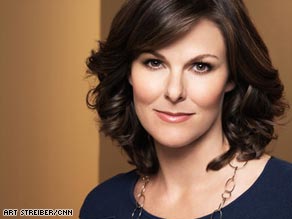 CNN's Campbell Brown says Nickelodeon should remove Chris Brown's nomination for its Kids Choice Awards.
(CNN) -- On the same day singer Chris Brown was arraigned for allegedly beating his pop star girlfriend Rihanna, he made an appeal to fans on his Myspace page: Vote for me for the Nickelodeon Kids Choice Awards. That's right. No apology, no concern for his battered girlfriend. He's worried about the next awards show.
Since his arrest, he did lose an endorsement deal with Doublemint gum. But for some reason the folks at kids' channel Nickelodeon still think it's appropriate to nominate him for Favorite Male Singer.
'No Bias, No Bull'
Get the latest on the day's main events.
8 ET Monday through Friday

In a statement they say: "Chris brown was nominated by kids several months ago based on his body of work as a performer." But the executives at Nickelodeon ought to take a good look at this photo obtained by TMZ because this may be Brown's real body of work, allegedly taking a beautiful young cover girl and turning her face into this.
Nickelodeon should wake up. I think, the only place Chris Brown belongs is in jail. It boggles the mind that a children's TV network, trusted by parents for decades, could turn a blind eye when faced with such violence. Imagine the message it sends to a generation of boys and girls? iReport.com: Chris Brown fans: Share your reaction

The awards take place the end of the month. In other words, there is still time for Nickelodeon to come to its senses, even if Chris Brown never comes to his.
The opinions expressed in this commentary are solely those of Campbell Brown.
E-mail to a friend

All About Chris Brown • Rihanna