By Gloria Borger
CNN Senior Political Analyst





WASHINGTON (CNN) -- In case you hadn't noticed, Americans are having a rough time with the New World Order as it applies to saving the economy.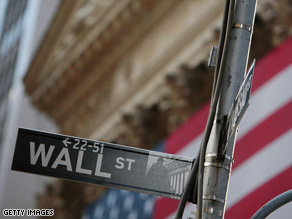 The president has a hard message to sell: Without aid for banks and Wall Street, we'll all sink, Gloria Borger says.
That is, the ordinary moral instincts we use to guide our daily lives don't seem to apply to economic policy: We can't simply punish the bad guys. Alas, we have to help the bad guys -- in order to help ourselves.
For most -- angry at the stupidity and profligacy of both Wall Street and the big banks -- saving that bunch is not an easy notion to accept. And if you're the president, it's even a harder notion to sell.
People are losing wealth every day. Those close to retirement are putting it off. So are those who want to sell their homes or get a loan. So what's a president to say: You need to root for the bad guys to get back on their feet first?
Well, yes. Someone needs to say it. The president dipped his toe in the treacherous water in his joint address to Congress earlier this month when he allowed, "I know how unpopular it is to be seen as helping banks right now, especially when everyone is suffering in part from their bad decisions. I get it. But I also know that in a time of crisis, we cannot afford to govern out of anger, or yield to the politics of the moment."
Exactly right. But why has the argument stopped there?
It's politically easy -- even attractive -- for GOP Sen. Richard Shelby of Alabama to continue to argue that we ought to just let the bad banks die. It's harder to argue the current truth: The economic fate of ordinary Americans is tied to those banks, which are tied to Wall Street, which determines the fate of our retirement accounts.
Don't Miss
"The administration has to explain to the American people that it is in their own self-interest that the government spend resources for financial markets," Vincent Reinhart, a senior fellow at the American Enterprise Institute, told CNN's Jessica Yellin. "Because as long as the institutions at the center of the global financial system have holes in their balance sheets, they won't lend, won't support markets and they'll be a drag on the economy."
In other words, we can't bury the banks and Wall Street without burying ourselves at the same time.
It's not the same as it was in the recession of the early '80s. At that time, the 401(k) was in its infancy. Now our retirement accounts have become a barometer of how we feel about our own financial health. It is a temperature we can take every day, by just logging on. And it's a real measure, not just a psychological one -- although it is that, too.
Since his address to Congress, President Obama has generally retreated into the more predictable argument that the stock market gyrations should not be considered on a day-to-day basis, likening them to a "tracking poll in politics." If you pay too much attention to the daily numbers, he tells us, "then you're probably going to get the long-term strategy wrong." Fair enough.
But the president also became the stock market analyst in chief, arguing that buying stocks now could be a potentially good idea if "you've got a long-term perspective on it." He's probably right, but that's not what we really need to hear. How about a road map for overhauling the financial system? Or how about the details of the plan to buy up those toxic assets from the banks so the economy can get moving again?
That's going to be tricky, of course, because the administration recognizes that going back to Congress for more money to save the banks could be politically impossible. And while some senators -- on both sides of the aisle -- say nationalization of some banks may be necessary to save the system, they're afraid there's no political will to do it, because of the expected public outcry against it.
That's where the leadership comes in.
Treasury Secretary Timothy Geithner can't be expected to make this case alone. It's got to come from his boss, who is pretty good at these things. Granted, it's a hard sell: Bail out the bad guys. But the next half of the sentence is what counts: If you don't, we will all sink together.
E-mail to a friend

All About Barack Obama • National Economy