By Mark Preston
CNN Political Editor





WASHINGTON (CNN) -- Liberal bloggers were the cyber cheerleaders for Barack Obama in the 2008 race for the White House. But now that he has won, these "netroots" activists face a major challenge: criticizing the new president and his administration.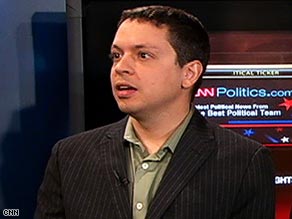 DailyKos' Markos Moulitsas says bloggers face challenges as they try to hold President Obama accountable.
It is an interesting dilemma for liberal bloggers who pride themselves on being independent, especially as it relates to the Democratic Party and its leaders.
Former President Bush served as the glue for the often divided liberal blogging community, whether it was their opposition to the Iraq war and domestic spying or frustration about Bush's approach to education and health care.
Liberal bloggers spoke early and often about holding the Bush administration accountable, but will they do the same to the Obama White House?
"I think our challenge is that line from destructive criticism to constructive criticism, because there is going to be criticism," Markos Moulitsas, founder of DailyKos.com, said in a recent interview. "The issue is how we manage that and it's a fine line and it's very tough sometimes."

Watch more on the future of political blogging »
Moulitsas and Jane Hamsher, founder of firedoglake.com, stopped by to talk about liberal blogging in the Obama era as well as their new political venture to help fund primary opponents against Democrats who they believe are not representing their constituents' views.
"We want to be responsive to people, to what constituents want," Hamsher said. "Not what the corporations want."
Blogging is to liberals what talk radio has been for conservatives: a forum to express and promote their ideas and views. While there are successful Republican blogs, Democrats gained an early foothold in cyberspace, and now GOP leaders and grassroots activists are working to catch up to them.
"They're more comfortable with somebody like Rush Limbaugh telling them what to do, and I don't see that as a value judgment," Moulitsas said. "In fact, we wished on [the] liberal side that we have had that for years, because it was a very effective way for them as a way to mobilize and engage. And that rallied their troops."
Moulitsas added that blogging has allowed Democrats of all stripes to express themselves, which often leads to arguments.
"People are viciously arguing with each other, but we're all under the same tent and when it comes time to come together for an election, we'll come together," he said.
After a marathon campaign of firsts -- the first viable woman candidate, the oldest political party nominee, and the first African-American elected president -- are bloggers exhausted or still engaged in the political process?

"You have a situation where people's lives are directly affected by what's happening in politics today," Hamsher said. "They're losing their jobs. They've lost their 401(k)s. The stock market is in the tank. There are terrible problems right now and people are looking to Washington, D.C. to solve them and they want to find out what's going on."
To hear Moulitsas and Hamsher talk about more about the state of blogging, click

here ». And check back soon to hear conservative netroots activists talk about blogging in the Obama era.
E-mail to a friend

All About Barack Obama • Democratic Party