From Kate Bolduan
CNN






(CNN) -- They're generally healthy and have a long life ahead of them. The health insurance industry even calls them 'the young invincibles.'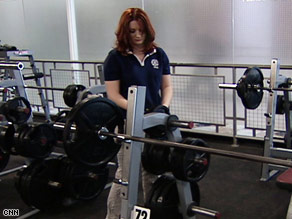 Bree Honey, of Maryland, is just one of many young Americans going without health insurance.
So, what's the problem? Young adults, ages 19 to 29, are the largest age group of uninsured people across the country.
For Maryland resident Bree Honey, all she can do for her chronic back pain right now is to exercise at the gym where she works and take Tylenol PM instead of other medicine she needs.
"I'm definitely working out right, to try and keep my strength up and to help my immune system right now. ... It's the best thing I can do for myself," Honey said.
Why? She has to put all her money toward expensive drugs for her depression -- without health insurance.
"I am buying my own prescription drugs by myself. ... And I have to pay for that out of pocket every single month. So it's very difficult on me," she said.
At 20, she's too old to be covered by her parents' policy since she's no longer in school. She makes too much to qualify for public health care, but she can't afford private insurance -- and doesn't yet qualify for coverage at her new job.
"I'm just a struggling student right out of college, trying to make my way. And I can't--I don't have the money right now for insurance," Honey said. "If there's some way that the government could get me, or get everyone, just a minimal coverage ... I would even pay for it out of my taxes if I had to."
Many other 20-somethings early in their careers don't have jobs that offer health benefits.
"Only about one-half of all young adults who are working are offered coverage through an employer, compared to about 75 percent of adults who are offered coverage through an employer, over age 30," said Sara Collins with the nonpartisan health care group, Commonwealth Fund.
And it's a common problem. According to the latest date from the Census Bureau, in 2007, there were an estimated 13.2 million uninsured young adults. It's the fastest growing group of the 46 million uninsured Americans today.
Other uninsured rates, according to the data:
• Children under 19: 11 percent
• Ages 30-35: 23 percent
• Ages 36-49: 17 percent
• Ages 50-64: 13 percent.
Reducing the number of uninsured young adults is a top priority for President Obama.
"Health care reform is no longer just a moral imperative, it is a fiscal imperative," Obama said at a health summit at the White House last week.

Watch more on the White House health summit »
But what can young people do? Collins says first check with your state: About 25 percent have increased the age of dependency.
"New Jersey extended the age of eligibility to age 30, most states are clustered around increasing that age to about 24 ... So this is a big help to young adults who had coverage under their parents health insurance plan and lose that coverage," Collins said.

Watch more on Obama's prescription for change »

As for Bree Honey, she'll just keep working out and hoping for the best. But it's never far from her mind.
"I'm strapped. I feel like I'm almost like a prisoner in my apartment right now. I can't get sick. I have to worry about if I'm going to get hurt," she said.
E-mail to a friend

CNN's Ed Hornick contributed to this report.
All About Health Care Issues • Health Care Costs