COLUMBUS, Ohio (CNN) -- For Officer Joshua Vandop, Friday was special on many levels. For one, his graduation from a police training program featured President Obama as the commencement speaker.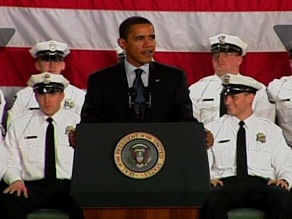 President Barack Obama speaks at a police academy graduation Friday in Columbus, Ohio.
"To have the president show up for graduation, it's a pretty cool thing," Vandop said.
The president's visit came at the end of a nerve-racking month for Vandop and 24 other graduates of the police training program in Columbus, Ohio. A few weeks ago, they all seemed to be headed for the unemployment line.
Vandop had no problem completing the police department's six-month training program. But the recent downturn has hit central Ohio hard and the graduating cadets learned at the end of January that they would be laid off because of a shortfall in the city's budget.

Watch how Vandop says: 'It's a huge relief' »
"We were all really excited to get out on the streets and then it was gone," Vandop said. "It was hard for a while, especially for our families. I was scrambling to find work ... We went into survival mode."
Then, a few weeks later, Congress passed the president's $787 billion economic stimulus package. Columbus was given a $1.25 million grant from the Justice Department, and the cadets got to keep their new jobs.
"These 25 officers stand for more than just law and order," Columbus Mayor Michael Coleman said. "This is our nation's stimulus package at work ... and it's working right here in the city of Columbus."
Vandop, a father of two, said the news was a huge relief for all the graduates.
"It was just a weight off our shoulders [because now] we have a way to provide for our families," he said.
Vandop's salary will be paid in part through $2 billion in new Justice Assistance Grants which, according to Obama, "will help communities throughout America keep their neighborhoods safer with more cops, more prosecutors, more probation officers, more radios and equipment, more help for crime victims and more crime prevention programs."
Cities and states can request these funds immediately, the president said Friday. The Justice Department intends to distribute the funds within 15 days of receiving applications.
But for Vandop and his fellow graduates there's a catch: The grant will only support their salaries through the end of 2009.

Is Vandop nervous about that future?
"It's in the back of my mind," he said. "But we start field training next week and that's what I'm most concerned about right now -- continuing to learn what I'm supposed to do and becoming proficient in the job."
E-mail to a friend

All About Columbus (Ohio) • Barack Obama • U.S. Department of Justice