(CNN) -- President Obama on Friday touted the benefits of his economic recovery plan at a police cadet graduation made possible as a result of the recently passed $787 billion stimulus package.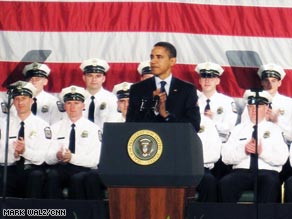 President Obama says his stimulus plan will spur job creation.
"We've got big challenges ahead of us," Obama said at the ceremony for 25 new Columbus, Ohio police officers.
But the stimulus plan would facilitate an economic recovery, he said, in part by helping support workers in law enforcement, teaching and other public sector professions.
"Because of this plan, stories like the one we're celebrating here in Columbus will soon take place all across this nation," the president said as he announced the distribution of $2 billion in new law enforcement grants from the stimulus package.
The graduating cadets were informed at the end of January that they would be laid off because of a shortfall in the city's budget, Columbus Mayor Michael Coleman said.
A few weeks later, however, the city was given a $1.25 million stimulus grant through the Justice Department, which would provide funding for the cadets' jobs through the end of 2009. The cadets' future is uncertain beyond that point.
"These 25 officers stand for more than just law and order," Coleman said. "This is our nation's stimulus package at work ... and it's working right here in the city of Columbus."
Don't Miss
Obama said Friday that the latest unemployment figures prove the necessity of his $787 billion economic stimulus plan.
"I don't need to tell this graduating class what it's like to know that your job might be next because, up until a few weeks ago, that is precisely the future that this class faced, a future that millions of Americans still face right now," he said.
Obama reiterated his claims that the stimulus plan will help reverse the economic downturn once the bulk of its funds are distributed to states and localities.
The government reported Friday that employers cut 651,000 jobs in February, down from a revised loss of 655,000 jobs in January. December's loss was also revised, but higher, to a loss of 681,000 jobs, a 59-year high for losses in one month.
The unemployment rate rose to 8.1 percent from 7.6 percent in January, the highest reading since December 1983.
More than 3.3 million jobs have been lost over the past six months.
Obama signed the stimulus package into law February 17. The Congressional Budget Office has estimated that the plan will create between 1 million and 3 million jobs.

The package passed Congress on a virtual party-line vote, with no Republicans supporting it in the House and only three Republicans voting for it in the Senate.
The GOP leadership had pushed for more tax cuts and less federal spending in the stimulus plan.
E-mail to a friend

All About Barack Obama • National Economy