By Ruben Navarrette Jr.
Special to CNN





Editor's note: Ruben Navarrette Jr. is a nationally syndicated columnist and a member of the editorial board of the San Diego Union-Tribune. Read his column here.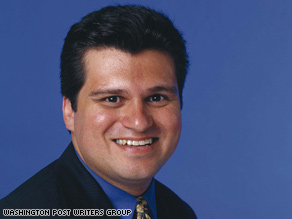 Ruben Navarrette says President Obama is making the right choice by moving to the center.
SAN DIEGO, California (CNN) -- President Obama has clearly drifted to the center, even if neither the right nor the left wants to acknowledge it.
Conservatives will take one look at his economic policies -- most notably, his support for the $787 billion economic stimulus bill -- and insist that there is no way that the president can be called centrist. Liberals are just as adamant in resisting the idea that they got duped and voted for someone who doesn't seem sufficiently liberal, so they're no more eager to label Obama a centrist.
Yet, it should be obvious to the rest of us that, having been on the job a little more than a month, Obama and his administration have spent much of that time in the middle of the road. For the most part, this is a good thing. Politics is much too complicated for those who practice it to adhere to rigid goals, refuse to compromise or eschew nuance.
Obama's alignment in the center began with his Cabinet picks. There was his decision to retain Defense Secretary Robert Gates (one of the people responsible for carrying out President Bush's policy in Iraq, which Obama had labeled a failure).
There was his nomination of Eric Holder as attorney general (despite the fact that Holder had at one point urged Congress to reauthorize the Patriot Act, which many civil libertarians abhor) and his choice of Arne Duncan to serve as education secretary (despite the fact that he supports No Child Left Behind while left-leaning teachers unions give the accountability law a failing grade).
And there was his nomination of Tim Geithner as Treasury secretary (despite the fact that, as head of the Federal Reserve Bank of New York, Geithner helped midwife President Bush's disastrous banking bailout), and his decision to name Arizona Gov. Janet Napolitano head of the Homeland Security Department (where she is responsible for immigration enforcement, despite being criticized by liberals in her home state for signing the toughest employer sanction law in the country and declaring a state of emergency on the U.S.-Mexico border).
More recently, we've had a glimpse at some of Obama's policies, which look an awful lot like those of his predecessor.
For one thing, the Obama administration recently carried out its first work-site immigration raid in Bellingham, Washington, despite the fact that immigrant activists despise such raids for dividing families and turning lives upside down.
Don't Miss
Then there are Obama's anti-terror policies. While Obama ordered closed the military prison at Guantanamo Bay, Cuba, he also kept alive the CIA's authority to carry out "rendition," the secret abductions and transfers of prisoners to other countries where they can be tortured. That outraged civil libertarians.
So did the position of the Obama Justice Department that 600 prisoners at the U.S. air base at Bagram, Afghanistan, cannot use U.S. courts to challenge their detention. That was also the Bush's administration's view.
The third strike for many on the left was the attempt by the Obama Justice Department to quash -- in another echo of Bush policy -- a lawsuit challenging the government's rendition and warrantless wiretapping programs.
Last week, a federal Appeals Court in San Francisco rejected the Obama administration's request for an emergency stay in the case. Government lawyers signaled that they would continue fighting to keep the information secret on national security grounds.
That sparked an angry response from Anthony D. Romero, executive director of the American Civil Liberties Union, which is representing the plaintiffs in the case.
"This is not change," Romero said in a statement. "This is definitely more of the same. ... If this is a harbinger of things to come, it will be a long and arduous road to give us back an America we can be proud of again."
Let's not get carried away. There is a lot that we can be proud of now. I understand where Romero is coming from, and -- in light of how compliant the media has been toward the Obama administration -- I'm glad that someone is holding the president accountable for what some consider defective and dangerous policy. But, as the commander in chief, Obama has responsibilities that most of us can't fathom, including the ultimate responsibility to safeguard the country and prevent another terrorist attack.
Maybe the problem isn't with the president but with those who supported him on the naïve assumption that every single policy would radically change. That's obviously not going to happen, and that's OK. Although the left won't admit it, not everything the Bush administration did was wrong.
It didn't take Barack Obama long to figure out that it is much more difficult to be president than it is to run for president. Now, all his supporters have to figure out is how much disappointment they're willing to put up with, and for how long.
The opinions expressed in this commentary are solely those of Ruben Navarrette.
E-mail to a friend

All About Barack Obama • Timothy Geithner • George W. Bush