WASHINGTON (CNN) -- The U.S. Senate postponed a planned vote on a $410 billion spending plan on Thursday, with Democratic leaders saying they would allow Republican changes to the bill to be considered after coming up just short of the support they needed.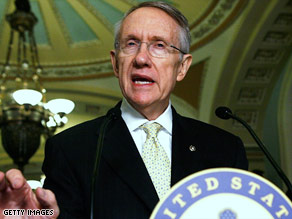 Senate Majority Leader Harry Reid will look to Republicans to help pass a $410 billion spending bill.
The decision delays a dilemma for President Obama, who was not in office when the bill was being put together.
He would have to choose between vetoing it, which some fellow Democrats have suggested, or signing off on a plan that contains the kind of spending projects he's spoken out against yet provides funding for government operations.
The omnibus bill's price tag and its nearly $8 billion for local projects -- so-called pork-barrel spending or earmarks -- have made it a lightning rod for controversy as the government struggles with a tough economy.
Senate Majority Leader Harry Reid said he was one vote short of the 60 he needed and suggested that he would pick up some Republican votes if their amendments are considered.
"At quarter to eight tonight, I had 59 and a half votes," Reid joked as he announced the postponement.
The bill is designed to keep the federal government running through the end of the 2009 fiscal year, which runs until September 30.
The projects, most of which were requested last year, range from $300,000 for the Montana World Trade Center and $381,000 for Jazz at Lincoln Center's music education program to a much-maligned $1.7 million study on pig odor in Iowa, the nation's top pig-producing state where swine outnumber people nearly 7-to-1.
Obama has vowed to crack down on spending for special projects. While money for earmarks in the bill is less than the amount in similar bills in the past, the 8,500 projects have raised eyebrows.
In the past few days, two Democratic senators -- Evan Bayh of Indiana and Russ Feingold of Wisconsin -- announced they would not vote for the spending bill and urged Obama to veto it if it passed.
Other Democratic senators, such as Claire McCaskill of Missouri and Robert Menendez of New Jersey, were believed to be still considering how to vote earlier Thursday.
U.S. Treasury Secretary Timothy Geithner was working directly with Menendez Thursday on concerns about parts of the plan that would loosen trade and travel restrictions on Cuba, said a Democratic leadership aide who asked not to be named because of the sensitive nature of the negotiations.
As of Thursday night, Menendez still was leaning toward voting against the bill, said Menendez spokesman Afshin Mohamidi.
Sen. Arlen Specter of Pennsylvania was one of several Republicans believed to be willing to support the plan as long as several more amendments are at least considered. A senior Republican aide told CNN that GOP senators expect there to be enough support if the amendments come to the floor.
Reid said the Senate would begin considering amendments on Monday, and that a vote on the bill is likely Tuesday.

E-mail to a friend

CNN's Ted Barrett and Bob Kovach contributed to this report.
All About Barack Obama • U.S. Senate • Harry Reid • Timothy Geithner