(CNN) -- As Democrats cast conservative talk show host Rush Limbaugh as the de facto leader of the GOP, Republicans are decrying what they see as an orchestrated scheme designed to divert attention from the Democrats' spending proposals.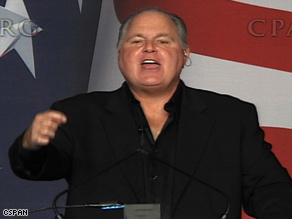 Radio host Rush Limbaugh has been vocal about his displeasure with President Obama's policies.
Democrats fired out two political e-mails about Limbaugh on Thursday morning, calling him the face of the GOP, and Republicans sent out one of their own, demanding that the White House "come clean" about and apologize for a "political attack game."
An e-mail sent on behalf of the Democratic Senatorial Campaign Committee states: "Rush Limbaugh is the leading voice of the Republican Party. Make no mistake. When Rush says jump, congressional Republicans say how high?"
The committee says that while President Obama has reached out a hand to Republicans, the GOP has "preferred to kowtow to extremists like Limbaugh rather than accept the good faith outreach of our president."
The letter asks readers to sign the committee's petition -- which will be sent to Senate Republicans -- "demanding that they reject the disgraceful words of Rush Limbaugh and start working with President Obama on real solutions for the American people."
Also on Thursday, the Democratic National Committee announced in an e-mail its plans to buy billboard space in West Palm Beach, Florida, criticizing Limbaugh for opposing Obama's policies.

Watch Rudy Giuliani say Limbaugh 'doesn't run the GOP' »
The DNC sent an e-mail to supporters Thursday soliciting a "slogan in ten words or less" that will appear on the billboard in Limbaugh's hometown. "If Republican leaders aren't willing to tell Rush, then we will," DNC Executive Director Jen O'Malley Dillon wrote in the e-mail.
Don't Miss
The DNC did not offer any further details, such as when it plans to put up the billboard.
On the Republican side, Sen. John Cornyn of Texas sent an e-mail to supporters of the National Republican Senatorial Committee asking them to sign a petition demanding that the White House apologize for not focusing on "the hard work that needs to be done to get America's economy back on track."
The letter cited an article from Politico, where it was reported that political strategists and CNN contributors James Carville and Paul Begala allegedly pushed the idea of attacking Limbaugh in their daily conversations with White House Chief of Staff Rahm Emanuel.
Carville avoided saying Wednesday if he had been in contact with the White House over ongoing efforts to portray Limbaugh as the leader of the GOP, and said it was Limbaugh who started the war of words.

Watch: Are Democrats targeting Limbaugh? »
"I think that honestly I don't want to take credit away from the great Rush Limbaugh, who did it on January 16 when he said he wanted the president's policies to fail, and that's what started the whole thing," Carville said on CNN's "The Situation Room." "So don't give Paul and I, or Rahm, credit. Credit is due to the great Rush Limbaugh. So my hat's off to you, Rush."
The Politico piece noted that Carville and his partner, pollster Stan Greenberg, began polling Limbaugh's popularity last year during the presidential campaign.
Carville said he and Greenberg have included Limbaugh in their polls "for a long time" and said they were working on a new poll to be released soon.
Begala, asked in a separate interview whether he was coordinating an anti-Limbaugh strategy with the White House, said: " I don't take orders from anybody, except CNN. I don't work for any politicians. I work for the network."
"My strong suspicion is that the White House has bigger fish to fry," Begala told CNN.
The commotion over Limbaugh picked up steam this past weekend when the talk show host addressed a roaring audience at the Conservative Political Action Conference and defended his comment about wanting Obama to fail.
"What is so strange about being honest and saying, 'I want Barack Obama to fail' if his mission is to restructure and reform this country so that capitalism and individual liberty are not its foundation? Why would I want that to succeed?" he said, bringing the crowd once again to its feet.
Republican National Committee chairman Michael Steele fueled the Democrats' attack after he called Limbaugh's rhetoric "incendiary" and "ugly" and insisted that he is in charge of the GOP in an interview taped last week. Related: RNC member asks Steele to resign
Steele later softened his language and said, "I respect Rush Limbaugh, he is a national conservative leader, and in no way do I want to diminish his voice."
Tim Kaine, chairman of the DNC, told CNN that Steele's backpedaling from earlier criticisms proves that Limbaugh is "the Wizard of Oz ... who kind of oversees everything" in the GOP.
Democrats also launched a Web page that mocks GOP leaders for apologizing to the radio host for criticizing or publicly disagreeing with him.
Limbaugh in recent days has made no efforts to step out of the spotlight. He had a banner headline across the top of his Web site that read: "Hilarious: Democrat Party Launches Yet Another Anti-Rush Web site" and linked to the site.
And on Wednesday, Limbaugh challenged Obama to a verbal showdown, calling on him to visit his talk show for an "intelligent, open discussion" on issues like health care and taxes.
Limbaugh also accused the White House of orchestrating an attack on him, telling his listeners that the Obama team is demonizing the radio host since President George W. Bush left office.
He said the effort was being spearheaded by Emanuel, whom Limbaugh calls the "power behind the throne."
"Don't let his effeminate nature and his ballerina past mislead you on this. He may look effeminate (he was a ballerina at one time) but he has the feral instincts of a female rat defending its young," Limbaugh said.
"I'm calling. I'm ready. I'll do everything I can to facilitate it. You're a very courageous man, Mr. President. I am, after all, just The Last Man Standing," Limbaugh said.
Republican leaders, like House Minority Leader John Boehner and House Minority Whip Eric Cantor, are brushing off the controversy as a distraction and calling on Obama to "change the way Washington operates."
"In the midst of a deepening recession, White House staff should have higher priorities than this cynical strategy," Boehner said.

White House press secretary Robert Gibbs on Monday dismissed the idea that there was a political tactic coming from the White House.
"You know, I control many things. The speaking schedule of Rush Limbaugh, I think, he and I would agree, I have very little control over," he said.
E-mail to a friend

CNN's Peter Hamby, Kristi Keck, Sarah Parker and Mark Preston contributed to this report.
All About Rush Limbaugh • Democratic Party • Republican Party