WASHINGTON (CNN) -- Piracy off the East African coast will not be fully controlled until stability is restored to the troubled nation of Somalia, participants in a key U.S. House committee's hearing concluded Thursday.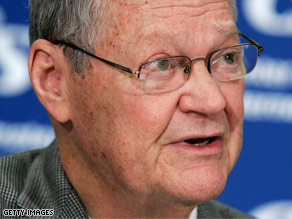 Rep. Ike Skelton called Thursday for the creation of an "international counter-piracy league."
"There will be no lasting solution to the problem of piracy ... until Somalia's failed state is addressed," Armed Services Committee Chairman Ike Skelton, D-Missouri, said in a special hearing on the issue.
"I fear that the situation on the ground in Somalia will be repeated in other failed states and in states with vast areas of ungoverned territory within their borders," he said. "Piracy could not exist on this scale and with this level of brazenness if there was effective governmental control of that nation."
Incidents of piracy have skyrocketed over the course of the past year. In 2008, there were 293 pirate attacks worldwide, with 111 in Gulf of Aden or off the Somali coast, according to Skelton.
"Ultimately, piracy is a problem that starts ashore and requires an international solution ashore," agreed Navy Vice Adm. Bill Gortney, head of a coalition of more than 20 nations now patrolling waters off the cost of East Africa and in the Gulf of Aden.
"We cannot guarantee safety in this vast region," he said. "Our role in preventing some of these attacks is only one part of the solution to preventing further attacks."
Gortney's remarks came hours after the U.S. Navy handed over seven piracy suspects to Kenyan authorities.
Don't Miss
The handover was the first since the United States and Kenya struck an agreement to move piracy suspects caught off Africa's east coast to Kenya for prosecution.
The suspected pirates had been held by the United States since February 11, when they were captured off the coast of Somalia after attempting to take over a Marshall Islands-flagged tanker.
Rep. John McHugh of New York, the committee's ranking Republican, expressed concern that the piracy spike may be fueled at least in part by certain radical Islamist factions seeking to expand their control over Somalia.
Skelton hypothesized that the spike is a consequence of economic globalization, "which radicalizes significant numbers of people who feel alienated and disenfranchised, and who seek to undermine the security and prosperity of those they hold responsible."
The issue of piracy is crucial, Skelton noted, because the "maintenance of free trade and free passage of vessels are crucial components of our national security," particularly in light of U.S. dependence on foreign energy supplies.
Skelton called for the creation of an "international counter-piracy league under the auspices of the United Nations" to help confront piracy.
"Neighboring nations must get involved and the collective weight of the international community must be felt in this regard," he said.
E-mail to a friend

All About Somalia • U.S. House Armed Services Committee