Editor's note: Campbell Brown anchors CNN's "Campbell Brown: No Bias, No Bull" at 8 p.m. ET Mondays through Fridays. She delivered this commentary during the "Cutting through the Bull" segment of Thursday night's broadcast.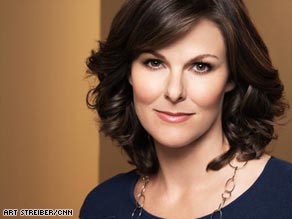 CNN's Campbell Brown says congressional spending on Congress increased by 11 percent in a new spending bill.
(CNN) -- Yet again, we find ourselves asking when Congress is going to get the hint when it comes to squandering our tax money at a time when we have so little of it. You've already heard us talk about the more than 8,000 earmarks, aka pork, clinging to the emergency spending bill that could soon head to President Obama's desk.
That same bill, which was designed to keep the federal government functioning through September, contains a nearly 11 percent increase in congressional spending on Congress, itself. That translates to a nearly half-billion dollar jump over last year. And where's the money going?
'No Bias, No Bull'
Get the latest on the day's main events.
8 ET Monday through Friday

Well, among the highlights, 9.5 million of these urgently-needed dollars will be used toward refurbishing committee rooms in the House of Representatives. There's also cost-of-living pay raises for congressional staffers and expense accounts up to $40,000 for some lawmakers. Once again they forget that sometimes symbolism does equal substance.
In a year when millions of Americans are forced to tighten their own budgets, a year where the new President froze pay for some of his senior staff the day after he took office, why would Congress think the best way to improve its image is to blow money on renovating committee rooms?

How about improving your look where it really counts? Try some belt-tightening of your own for a change! If nothing else, you'll have something in common with the people you were elected to serve.
The opinions expressed in this commentary are solely those of Campbell Brown.
E-mail to a friend

All About Barack Obama • George W. Bush