By Ed Henry
CNN





WASHINGTON (CNN) -- The Obama administration will release guidelines on Wednesday to help lending institutions figure out which homeowners are most in need of help to stave off foreclosure, according to two administration officials familiar with the plan.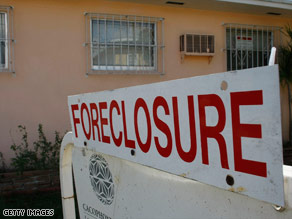 President Obama hopes to help keep nine million people in their homes with his foreclosure prevention plan.
President Obama promised the guidelines would be released on March 4 when he unveiled his proposal to help keep up to nine million people in their homes at a housing event in Arizona last month.
The officials said the guidelines will include tests to help banks figure out whether individual homeowners who are "underwater," or have homes that are valued less than the mortgage, can be saved by the president's $75 billion loan modification program.
Under the administration's plan, those homeowners considered viable under the new guidelines could have monthly housing payments lowered to 31 percent of their gross monthly income to help prevent foreclosure.
The plan aims to help a second group of homeowners in danger of facing foreclosure who do not currently have enough equity in their homes to take advantage of historically low interest rates through refinancing.
Only people who received their mortgages through Fannie Mae or Freddie Mac -- about 40 percent of homeowners -- are eligible for this part of the plan.
According to the officials, these homeowners usually can refinance only with a loan-to-value rate of 80 percent, so that there is at least 20 percent equity in the home.
Given that many of these homeowners have dramatically lost equity, they will now be eligible for refinancing at a loan-to-value percent of up to 105 percent, according to the officials.
E-mail to a friend

All About Barack Obama • Economic Crisis • Fannie Mae • Freddie Mac Holdings