By Jared Polis
Special to CNN





Editor's note: Rep. Jared Polis, a Democrat, represents Colorado's 2nd District in Congress and is appearing in CNN.com's "Freshman Year" series along with Rep. Jason Chaffetz, a Republican from Utah. Read Chaffetz' commentary here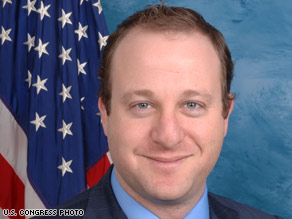 Rep. Jared Polis says his staff retreat included a yoga session, vegan dinner and planning meetings.
(CNN) -- One week after watching President Obama sign the stimulus bill in Denver, I was watching him give his first State of the Union address. (OK, so technically it was his "first address to a joint session of Congress.")
Once again, mild-mannered Tuesday morphed into a marathon hearing-committee meeting-floor vote-filled day peppered with speech practice and pre- and post-speech interviews. Midafternoon, we lined up to record a few sound bites about the speech that would be sent via satellite to television stations across the country.
I find this practice mind-boggling: Members of Congress are encouraged to tape pre-recorded statements in response to the speech BEFORE it happens, in order to make it into the evening news.
As I speak Spanish and try to make every attempt to reach out to the Latino community in my district, I taped responses in English and in Spanish, and I tried to stay general in my "reaction" to the speech -- since it hadn't happened yet.

Watch latest Freshman Year episode »
If you've ever watched the speech on TV, you know that getting a good seat is key. They say Rep. Elliot Engel, D-New York, arrives at 8 a.m. to secure his prime seat. To be safe, I walked over around 7 p.m., two hours before the event began, to grab a good spot. I brought my laptop and cranked out several letters to constituents before security made me turn it off.
As the room began to fill, I sent out my last "tweet" explaining that "We can't take pics on the floor, and it would be impolite to livetweet." This venture into Twitter etiquette has created quite a stir in the new media community (I made it on to the "Colbert Report"!) as apparently some other members of Congress used their BlackBerries during the speech itself.
Don't Miss
I thought the speech was great; Obama hit the ball out of the park and gave the American people the sense of hope and confidence they needed to hear.
After the speech I made my way to Statuary Hall (the original floor of the House of Representatives), which is transformed each year into a media circus where every station, from ABC to Al-Jazeera, lines up to suck up the post-speech spin. Around 10:45 p.m., after finishing my interviews, I made my way home, where I nearly tripped over my bags, still unpacked, from our staff retreat the previous weekend.
Staff retreats are important opportunities, especially in the freshman year, for staffers to get hands-on experience working with the people and issues of their district. While most of my staff are from Colorado, others are new to Team Polis -- from Texas, North Carolina, Florida, and Greece, adding to our diversity of expertise and talents.
The theme of this retreat was to highlight the uniquely progressive values, policies and politics of Boulder. For first-time visitors to the area, including some of my Washington staff, Boulder can take some getting used to.
Each member of Congress is allowed a staff of 18 people, split between Washington and district offices. For our Colorado staff, this was their first time meeting the Washington team.
After starting out Friday morning with a beginner's yoga session, I divided the staff into teams and sent them on a scavenger hunt through the University of Colorado campus and downtown Boulder to discover Boulder's favorite haunts and hangouts.
They learned how many Tajiki bride statues are in the Dushanbe Tea House and what color their wedding dresses would be (seven and burgundy) and met "Evan from Heaven," who shared the names of the six tightrope walkers who entertained visitors to Pearl Street Mall.
One group wandered slightly off course and accidentally ventured into the Sigma Pi fraternity house next door. They knocked on the door, asked to see Evan, and were led inside and up some stairs.
Needless to say, two of my staffers -- Chrissy and Rosalyn -- had a rather unique Boulder experience. I look forward to highlighting Thornton, the largest city in my district, at our retreat next year!
We wrapped up Friday with a series of discussion panels on "The Other Boulder," focused on the ideological diversity within my district. We heard from conservative bloggers and community leaders as well as my former opponent, Scott Starin.
We also had presentations on transpartisan politics and integral thought. As a reward for stretching their bodies and minds beyond their normal bounds, my partner, Marlon, and I treated the staff to a lovely vegan dinner at my home in Boulder.
Saturday and Sunday we met at the beautiful National Center for Atmospheric Research facility at the base of Boulder's Flat Iron Mountains and got to work. There is so much going on in Congress on so many different issues; it is critical to focus our efforts on areas in which we can make an impact.
Finding the focus for our team, so that the tasks we take on match our ability to execute, is an important part of being effective here, and our retreat moved us a long way in that direction.
My staff and I worked through the weekend hashing out our outreach, messaging and legislative goals. Much was accomplished. Questions were answered, friendships were made and no one fell asleep!

We were able to form a long-term, strategic plan, focusing on education reform, normalizing our immigration process, science and technology issues and protecting our environment. All in all, I consider our retreat a great success.
The opinions expressed in this commentary are solely those of Jared Polis.
E-mail to a friend

All About Barack Obama • Boulder (Colorado) • Education