Editor's note: Campbell Brown anchors CNN's "Campbell Brown: No Bias, No Bull" at 8 p.m. ET Mondays through Fridays. She delivered this commentary during the "Cutting through the Bull" segment of Tuesday night's broadcast.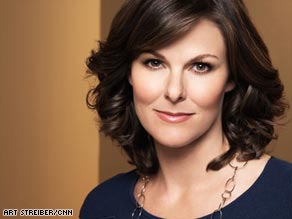 CNN's Campbell Brown says she hopes the new administration will stay transparent.
(CNN) -- As we continue to call for more transparency in government, cheers to the White House for starting to cut through the veil of secrecy left by its last occupant, former President Bush.
The Obama administration has made good, at least partially, on its promise to release confidential Justice Department memos spelling out how much leeway the Oval Office might have in prosecuting the war on terror.
Memos dealing with the use of torture on terror suspects. Memos dealing with the partial suspension of constitutional protections in this country, in the name of rooting out those who wish to kill us.
Now, we can and should continue the debate on what rights our government should or shouldn't have in dealing with terror suspects. But we should all be part of that debate.
We have a right to know how far it could go and why it was necessary.
'No Bias, No Bull'
Get the latest on the day's main events.
8 ET Monday through Friday

Keeping the American people in the dark showed a tremendous lack of respect for a country that values honest government.
Less than a week before leaving office in January, the Bush Justice Department wrote that those memos had long since been superseded or withdrawn.
But we're only finding that out now.

We hope the new administration won't stop its current effort to shed some light in dark places and will remember the mistakes of the past in keeping its own promise of transparency.
The opinions expressed in this commentary are solely those of Campbell Brown.
E-mail to a friend

All About Barack Obama • George W. Bush