By Gloria Borger
CNN Senior Political Analyst





WASHINGTON (CNN) -- In his national radio address last week, President Obama sent a clear warning about his new budget.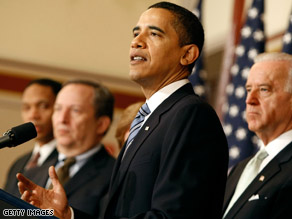 President Obama appears to keep swinging for the fences, analyst Gloria Borger says.
"I know these steps won't sit well with the special interests and lobbyists who are invested in the old way of doing business," he said. "And I know they're gearing up for a fight as we speak. My message to them is this: So ... am ... I."
With his definitive punctuation -- and his clear intention to goad his opponents -- it was Obama's version of George W. Bush's "Bring ... it ... on."
And the words are no less important for this new president: He's clearly staking his presidency on the outcome of this -- and other -- domestic policy fights.
And he's not shying away from any of them -- on energy, on health care, on education, on spending. The White House mantra: Out of crisis comes opportunity.

Watch Wolf Blitzer's panel discuss the budget »
"We're serious about trying to change the way Washington works," one top White House adviser said. "So we're trying to do it." After all, it's what they promised they would do, he said.
Remember: This is the same team that won a tight primary contest after trailing Hillary Clinton by more than 20 points in the polls. They had a game plan and stuck to it. When Clinton was openly musing about Obama becoming her vice president, he never took the bait. And he became the underdog who beat the big Clinton machine.
Don't Miss
This win reinforced Team Obama's political instincts to swing for the fences. And now that it's in the White House, it intends to do the same.
So here's the question: Is Obama going to be more like Jimmy Carter or Ronald Reagan? That is, is he overreaching and asking for failure or, in sticking to his beliefs, is he likely to win -- and bring the country with him?
During the campaign, we in the press all mused that, given the economy, Obama would never be able to do all that he had promised. We pressed him to tell us his priorities, and he ducked the questions. Now we know why.
He still intends to do it all.
While we tried to figure out the relationship between the agenda he ran on, and the one that has been forced upon him, Obama came up with a simple formula: They're the same.
The ambition is breathtaking. Sure, Obama has more of a congressional majority than Reagan had. And yes, he's popular. And Americans support the ideas of universal health care and energy independence. They may even buy into the notion that reforms are linked to deficit reduction.
The administration is banking on the fact that the economic crisis has made the political system more fluid. There are opportunities for new coalitions, they say -- and there is some truth in that. For instance, insurance companies and business are no longer out there fighting health care reform; they now need it if they are to survive.
And top White House aides also point out that the big issues, such as health care, are not new. "A consensus already is forming on health care," says one White House adviser. "Our issues have been around for a while. People know what needs to be done."
The deficit hawks are right to worry that the president's budget may leave us in too deep a hole years from now. And that we just can't afford to do everything at once.

But Obama remains convinced he can do it all. There is always a fine line to be drawn between the self-confidence of leadership and the arrogance of taking on too much, too soon.
We're just waiting to see where to point the pen.
E-mail to a friend

All About Barack Obama • National Economy • Federal Budget