From Ed Hornick
CNN






WASHINGTON (CNN) -- The U.S. Senate began tackling a $410 billion emergency spending bill Monday aimed at keeping the federal government operating for the remainder of fiscal year 2009, which ends September 30.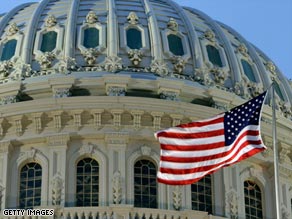 The U.S. Senate is debating an emergency spending bill on Monday.
President Obama is expected to sign it by Friday or the government runs out of money.
But critics say there's excessive spending in the bill, which would be contrary to the president's recent pledge to cut unnecessary government spending and pork-laden earmarks.
Cutting "wasteful" government spending was a pledge Obama made on the campaign trail and has repeated as president.
Monday on the Senate floor, Sen. John McCain, R-Arizona, blasted President Obama -- along with fellow Democrats and Republicans -- for the earmarks found in the bill.
"If it sounds like I'm angry Mr. President, it's because I am. The American people today want the Congress to act in a fiscally responsible manner and they don't want us to continue this corrupting practice [of unnecessary spending]," McCain said. "We're giving them [American people] a slap in the face Mr. President ... so much for the promise of change."
Obama said in his weekly address Saturday that politicians will "have to be more vigilant than ever in eliminating the programs we don't need in order to make room for the investments we do need. I promised to do this."
But several of Obama's Cabinet members, who served in Congress before joining the new administration, have earmarks listed on the bill
Vice President Joe Biden requested $750,000 for a University of Delaware program during his time as the senator from that state. Obama's chief of staff Rahm Emanuel, who was a Democratic congressman from Illinois, requested $900,000 for a planetarium in Chicago.
An Emanuel aide told CNN Monday that the request was submitted more than a year ago and is leftover business.
Sen. Richard Burr, R-North Carolina, said Washington is in a "state of denial."
"It seems that every morning you pick up the newspaper, you're reading about another multibillion-dollar government spending plan being proposed or even worse, passed. ... We become numb to what the dollar figures really mean, or the obligation that accompanies them," he said in the weekly Republican address on Saturday.
Pointing to the "spending priorities of the Democrats in Washington," Burr warned that "for the first time, we could see the American Dream vanish."
Last week, the House of Representatives passed the $410 billion spending bill. House GOP leaders argued that the spending increases in the bill -- $31 billion more than the previous fiscal year -- are too large.
The bill passed on a largely party-line 245-178 vote, with most Democrats voting in favor of it and most Republicans opposed.
Republicans also criticized $7.7 billion dollars worth of earmarks designed to support pet projects in individual lawmakers' districts. Democrats defended the size of the bill, saying it was necessary to help counter the economic downturn.
"American families and small businesses are making sacrifices across this country, and cutting expenses due to tough economic times. Yet this Democratic majority continues to spend like there's no problem at all," Rep. Pete Sessions, R-Texas, said.
The nonpartisan watchdog group, Taxpayers for Common Sense, listed some of the earmarks being proposed by members on both side of the aisle:
• $951,500 for "Sustainable Las Vegas" -- sponsored by Senate Majority Leader Harry Reid and Rep. Shelley Berkley, D-Nevada.
• $300,000 for the Montana World Trade Center, sponsored by Rep. Denny Rehberg, R-Montana.
• $238,000 for the Polynesian Voyaging Society in Honolulu, Hawaii. Sen. Daniel Inouye, a Democrat, is the sponsor.
• $381,000 for Jazz at Lincoln Center's music education programs, sponsored by Rep. Jerrold Nadler, D-New York. Read more of the group's analysis
Democrats defended the size of the bill, saying it was necessary to help counter the economic downturn and restore budget cuts made under former President Bush.
House Appropriations Committee Chairman David Obey, D-Wisconsin, said that "without the earmarking process, the White House and its anonymous bureaucrats would make every single spending decision in government."
The bill's spending increases cover a broad range of programs, from an additional $6.9 billion for a program to help feed poor women and infants, to $40 million to finish a new Capitol Hill visitors' center.
E-mail to a friend

CNN's Dana Bash and Evan Glass contributed to this report.
All About U.S. Congress • Barack Obama