WASHINGTON (CNN) -- Former Dallas, Texas, Mayor Ron Kirk, who is President Obama's nominee to be the U.S. trade representative, owes nearly $10,000 in taxes. He's the fourth Obama pick that has come under fire for tax issues.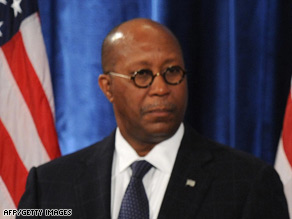 Former Dallas Mayor Ron Kirk is the fourth Obama administration pick to encounter tax issues.
Kirk's tax returns for 2005, 2006 and 2007 were reviewed by the Senate Finance Committee as part of the vetting process, according to a report released by the committee Monday.
The committee found that Kirk failed to report as income $37,750 in honoraria collected for 16 speaking engagements at Austin College over those three years. One year, he deducted honoraria from four events as charitable donations though he hadn't reported them as income, according to the committee report.
He also deducted too much for the cost of tickets to see the NBA Mavericks, reporting the entire $17,382 as business expenses, the report says.
Kirk has agreed to pay the $9,975 he owes from amended returns, according to the report.
"The mayor is working with the Finance Committee on a few minor issues," White House spokesman Ben Labolt said, adding that the "nomination is on track."
"The president nominated Mayor Kirk because of his proven ability at the negotiating table -- building consensus between opposing stakeholders in Dallas and crafting deals to create opportunities for U.S. businesses overseas," Labolt said.
The tax questions around Kirk's nominations are just the most recent that have faced the Obama administration.
Don't Miss
Former Senate Majority Leader Tom Daschle, Obama's first pick to lead Department of Health and Human Services, withdrew in early February after questions arose about his failure to pay about $100,000 in taxes he owed on a car and driver loaned to him by a friend and business partner.
Daschle's resignation came at the heels of Nancy Killefer's withdrawal as Obama's chief performance officer, a post Obama created, also for tax issues.
And before Tim Geithner was confirmed as treasury secretary, he was questioned over concerns involving his personal taxes and the immigration status of a former housekeeper.
On Monday, Sen. Max Baucus, D-Montana, and chairman of the Finance Committee, issued a statement in support of Kirk's nomination.
"Mayor Kirk is the right person for this job, and I will work to move his nomination quickly. I am confident he can successfully restore the confidence of Congress and the American people in a balanced international trade agenda," said Baucus. "I look forward to his testimony before the Finance Committee next week."
The committee is scheduled to hold a hearing on Kirk's nomination on Monday.
E-mail to a friend

All About Dallas (Texas) • Taxes • Barack Obama