By Arthur Brice
CNN





(CNN) -- President Obama should lift travel restrictions and adopt other measures to start normalizing relations with Cuba, a Washington think tank said in recommendations unveiled this week.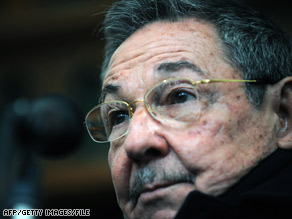 Analysts are unsure what will happen in Cuba when President Raul Castro is no longer in power.
Working under the auspices of the nonprofit Brookings Institution, a group of 19 academics, opinion leaders and diplomats met for 18 months to formulate 33 short-, medium- and long-term initiatives. The measures were compiled in a report Thursday called "U.S. Policy Toward a Cuba in Transition."
"Although we all come from different backgrounds and political orientations, we arrived at the same conclusion," the report's authors write in the introduction.
The United States broke diplomatic relations with Cuba in 1961, two years after Fidel Castro assumed power. In 1962, the United States established a trade embargo. Both policies remain in place 50 years after Castro took over. In addition, the United States has imposed other restrictive policies over the years, most recently under former President George W. Bush.
Among the short-term initiatives the Brookings panel recommends are: removing travel restrictions to Cuba, reinstating the ability for U.S. residents to send money to people in Cuba, allowing Cubans who meet U.S. requirements to travel in the United States, promoting normal diplomatic activities and opening a dialogue with the Cuban government. The ultimate long-range goal would be to re-establish diplomatic relations.
Former Ambassador Vicki Huddleston, one of two project directors for the Cuba report and a retired 30-year career diplomat, said she believes the Obama administration must try to achieve these goals.
"The status quo is not useful or even possible any more," Huddleston told CNN.
Don't Miss
Sen. Richard Lugar of Indiana, the ranking Republican on the Senate Foreign Relations Committee, made the same point this week when he released a draft report saying it is time to reconsider U.S. economic sanctions.
"After 47 years ... the unilateral embargo on Cuba has failed to achieve its stated purpose of 'bringing democracy to the Cuban people,' " Lugar wrote in a letter that accompanied the 21-page draft report. "The current U.S. policy has many passionate defenders, and their criticism of the Castro regime is justified. Nevertheless, we must recognize the ineffectiveness of our current policy and deal with the Cuban regime in a way that enhances U.S. interests."
Change is possible because the Democrats control the White House and both houses of Congress, said Bernard Aronson, assistant secretary of state for inter-American affairs for President George H.W. Bush from 1989-93.

Watch as momentum grows in Congress to change U.S. policy »
Aronson said he supports a new look at U.S. policy toward Cuba, especially since U.S. policy "went backwards" under the previous administration.
"The policies that prevailed in the Cold War had a rationale that was supported by Cold War realities," Aronson said. "With the Cold War over, you really have to re-examine all those policies."
But Otto Reich, a top Latin America official for Presidents Reagan and both Bushes, said the United States has to be careful in how it approaches Cuba. He rejects the Brookings Institution's approach, saying the recommendations are "a series of unilateral concessions" that don't require the Cuban government to do anything in return.
"If you're going to negotiate with another country, you don't put all your cards on the table for everyone to see and say, "Take it,' " he said. "It's frankly a little silly."
Huddleston said the panel's recommendations just reflect the reality of the world today, one in which the United States finds itself increasingly isolated with regard to Cuba.
In October, the U.N. General Assembly overwhelmingly passed a resolution urging the United States to end the trade embargo -- a vote praised by Cuban Foreign Minister Felipe Perez Roque as "a clear and direct message to the next president of the United States about the necessity to change this obsolete and cruel policy."
Huddleston noted that 185 nations voted against the U.S. position. Only two nations supported the United States.
"Latin America is saying to us, 'Enough already. We don't like your hostile policies,' " she said.
Although Reich disagrees with the Brookings panel's approach, he said, "I do believe, by the way, that it's time -- and it's always time -- to review policy."
Huddleston and Aronson said they think more contact with ordinary Cubans could help bring about change.
"I think we need to be more forward-leaning," Aronson said. "We have more influence when we engage people person-to-person."
Reich said though that he does not believe in "this fantasy that increased tourism is going to bring freedom to Cuba. There isn't a single nation that has been liberated by foreign tourism."
Nor does Reich believe in doing away with the embargo.
"The embargo now is mostly symbolic," he said. "The embargo is not the cause of Cuba's problems. ... Cuba trades with 185 nations. ... The cause of Cuba's problems is its Marxist government."
Huddleston said the Brookings group avoided the embargo in its recommendations because the issue is so emotionally loaded.
"This doesn't remove the embargo," she said. "The embargo remains because the embargo remains very symbolic for Cuban Americans."
All sides agree that the next few years will prove pivotal for U.S.-Cuba relations. Castro, 82, has had intestinal surgery and has turned power over to his 77-year-old brother, Raul. No one knows what will happen when Raul Castro is no longer in power.
"We need to establish that platform in Cuba with the people and with the government if we're going to have influence with the next generation," Huddleston said.
That's why, Reich said, it's crucial that U.S. actions not strengthen the current regime.

"If we don't handle this properly," he said, "we're going to ensure the survival of a very corrupt military dictatorship in Cuba."
Aronson sides with the Brookings position, saying, "Dictatorships are almost always more open to change when undergoing transition. ... That's why thinking ahead, the United States should be more pro-active in trying to engage Cuba. Isolation really limits your options."
E-mail to a friend

All About Cuba • Fidel Castro • George W. Bush • The Brookings Institution