By John King
CNN Chief National Correspondent





On CNN's "State of the Union," host and chief national correspondent John King goes outside the Beltway to report on the issues affecting communities across the country. This week, King traveled to Philadelphia to see how the green economy is replacing lost jobs.
PHILADELPHIA, Pennsylvania (CNN) -- At the Bright Hope Baptist Church, dinner is served on tables with neat, white tablecloths. A vase with a plastic flower is the centerpiece.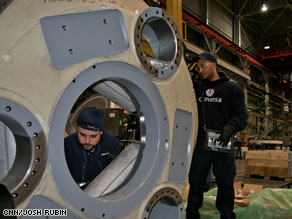 Gamesa, a Spanish company that builds turbines for windmills, has set up shop in the former US Steel plant.
The welcoming mood masks the grim reality.
The salad, garlic bread and spaghetti dinner is a lifeline to the 100 to 125 people who visit the inner-city Philadelphia church's soup kitchen. The growing demand outpaces supplies from area food banks, and the church more and more relies on donated canned goods from its congregants to help those struggling just to eat.
These are trying times in a city and state once defined by the steel factories that supplied the spine of America's industrial revolution and a proud blue-collar spirit.
Just outside the city sits a sprawling complex abandoned years ago by US Steel. Not long ago, it was a brownfield, the soil contaminated and the massive industrial buildings rusting alongside the railway tracks that once brought in the ore and carried out steel beams and rolls.
Now, it is an incubator in the so-called "Green Economy" that President Obama and others hold out as both the answer to America's industrial decline and its dependence on foreign oil.
Jim Bauer was a US Steel maintenance worker at the site when the company abruptly closed its operations here. Now, he is a team leader for Gamesa, a Spanish company that manufacturers giant wind turbines in the very building where Bauer once worked for US Steel.
'State of the Union'
John King reinvents Sunday talk: More time, for more politics.
Sunday, 9 a.m. ET

"We are still blue-collar guys at heart, but green-collar relative to the machines and what we are making," Bauer told us during a break on the factory floor. "We like it. We want to keep people working."
He proudly wears a Steelworkers Union pin on his baseball cap, and speaks highly of Gamesa's relationship with its union workers.
The workers, in turn, are praised by company representative Michael Peck. Gamesa employs 900 people in Pennsylvania, about 300 of them at the site we visited in Bucks County just outside Philadelphia. While steering clear of any specific projections, Peck says the company was planning to expand anyway and now sees additional growth opportunities in the economic stimulus legislation.
"So I would definitely say people that want jobs should keep their eye on Gamesa," Peck said. "We are de-rusting the Rust Belt. We are creating good manufacturing jobs showing that in America, we can make things again. And we are rolling back climate change -- so it is a three for one."
Don't Miss
More jobs are, of course, welcome. But the question is how many -- and how far away, if at all, is the day when these new green jobs are available at anywhere near the scale of the manufacturing jobs lost in recent years.
Bauer, for example, remembers when US Steel had 9,000 to 11,000 workers at this complex.
"But those jobs are ... gone," Bauer said simply.
"And you don't think they will ever come back?
"I don't think so."
Philadelphia Mayor Michael Nutter acknowledges the new green jobs, at least for now, tend to come in smaller numbers than at the old steel factories.

Watch what Nutter says about getting the stimulus money »
"We don't necessarily live in an environment where you can just swing for the fences and you're looking for the 2,000-person job opportunity," Nutter told CNN in an interview at the Philadelphia Navy Yard, which is now an economic development zone trying to attract new industry. "I think singles, doubles, triples move people around the bases as well."
Count Changing World Technologies, then, as a single.
The small lab converts industrial waste, grease and other products, including shredded automobile components, into biodiesel fuels. Its Philadelphia operation employs just nine people.
Nearby at the Philadelphia Navy Yard, a state-of-the-art bakery is under construction. Tastykakes are a Philadelphia institution. Nutter professes to have had his first at 5 or 6.
"The is the new economy, and it is still manufacturing," the mayor said as we toured the bakery construction site. The systems are all energy-efficient, including a new rainwater recycling system -- huge improvements over an existing facility that, while renovated over the years, dates back more than 90 years.
Again, though, this "green" upgrade will not immediately bring new jobs. A company official says at the outset, the existing workforce will transfer over from the older bakery, though the new facility allows room for expansion should the economy improve.
Still, Nutter is a believer that the green economy is taking root, and will eventually create new jobs on a larger scale. Some will come from energy investments called for in the stimulus program. The mayor, though, cannot say when those jobs will make it to Philadelphia.
"It is going to take a little time. It is a 1,100-page bill. I think some of the congressional folks are still trying to figure out what is going on."
Pressed to say when he expects to have money in the pipeline to create new jobs, Nutter says, "Maybe summer, into the fall. You know after the regulations get situated. Plans or applications get reviewed, and somebody checks off the boxes that need to be checked off."
That could test the patience in a city where tax revenue is way down, and the mayor faces some painful choices when looking at budget cuts.
The unemployment rate citywide is more than 8 percent, and it is in the double digits among African-Americans and Latinos.

A state-run career help office in central Philadelphia is packed all day by people searching online for vacancies, or using phones that ring directly to the office that processes claims for unemployment benefits.
There are a few job openings listed on a flier sent over from the Gamesa wind turbine factory, but for most of those here, the search is beyond frustrating. And as they sit scrolling through the scarce job listings on computer screens, they can find no evidence it will get better any time soon.
E-mail to a friend

All About United Steelworkers of America • Jobs and Labor • Economic Stimulus • Unemployment Rate