By Jonathan Mann





(CNN) -- Call him "Obama 3.0" As a politician, U.S. President Barack Obama does his best to manage people's emotions. This week we saw it yet again.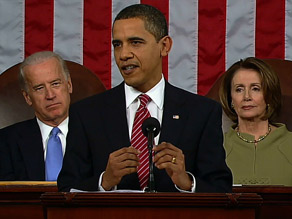 U.S. President Barack Obama says the nation will overcome its current economic struggles.
The first Obama the world got to know was the candidate who invited optimism and excitement, with a vision of America blind to race and open to possibility.
Obama 1.0 promised "change we can believe in" and it worked. It got him elected.
But that Obama began to disappear after election day. By then, the U-S economy had soured and the candidate who offered hope turned into a president who predicted pain.
Obama 2.0 warned that "a failure to act, and act now, will turn crisis into a catastrophe."
It worked. A majority of Americans told pollsters they backed his $787 billion stimulus plan and continued to back him.
But the change in tone was startling and, to some political insiders, it seemed counter-productive. The president's words were potentially undermining the confidence that's crucial to an economic recovery.
A few days ago, former president Bill Clinton gave Obama some public advice.
"I just want the American people to know that he's confident that we are going to get out of this and that he feels good about the long run."
Obama had a chance to make that change this week, in his first speech to Congress, a nationally televised opportunity to present his plans for the year ahead.
The speech and the proposed government budget that followed were full of details about programs, taxes and spending.
But the president's tone had changed, stressing confidence along with concern.
"We will rebuild," he said, "we will recover, and the United States of America will emerge stronger than before."
And again, it worked.
A CNN/Opinion Research Poll found that 85 per cent of the people who watched the president said he made them feel more optimistic about America's future.
Obama has a powerful tool as he faces his country's enormous economic problems.
He's been investing in America's emotions and so far, it's paying off.
E-mail to a friend

All About Barack Obama • Republican Party • Democratic Party