By Patrick Keeffe
Special to CNN





Editor's note: Patrick Keeffe has worked as a communications director for the Museum of Arts and Design and for The Cooper Union for the Advancement of Science and Art in New York City. He is a former newspaper and magazine journalist whose pieces have appeared in The New York Times, Metropolitan Home, Newsday and The San Francisco Chronicle.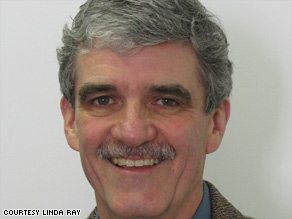 Patrick Keeffe says hundreds of thousands of jobless workers were left out of expanded health benefits.
HUNTINGTON, New York (CNN) -- Last fall, during the presidential campaign, my wife and I watched then-Sens. Barack Obama and Joseph Biden talk passionately about the health-insurance crisis and how they would address it.
When they noted that the average replacement cost for an employer-provided health plan is $12,000 a year in premiums, my wife and I looked at each other and realized that we were poster children for the health-insurance crisis. And we are not alone.
When the federal stimulus plan was passed, we were excited to learn the good news that the government will assist millions of unemployed people with their health-insurance costs.
Under the COBRA law, laid-off workers can continue to purchase the coverage provided by their employers' health plans for up to 18 months. But that coverage is more costly than regular health insurance on the job, since companies pay the bulk of the cost only for active workers.
Under the stimulus, the government will make COBRA cheaper for those who lose their jobs by subsidizing 65 percent of COBRA premiums for up to nine months.
When the details were released, however, we had a rude awakening: Anyone who lost a job before September 1, 2008, was out of luck. No help for us -- and many others in our situation.
Don't Miss
The federal government and Wall Street now acknowledge that the recession actually began at the end of 2007, many months before the widespread economic chaos of September 2008.
Hundreds of thousands of us lost our jobs before the larger economic meltdown of this past fall. The arbitrary starting date of September 1 dismisses our grave financial problems -- and they are grave.
Our COBRA benefits are running out. And so are the savings -- if they haven't already been depleted -- that many of us are spending for health insurance, rents and mortgages, food and fuel, and tuition and taxes.
My family is all too familiar with this crisis. I worked in the New York City nonprofit world as a public relations director for a museum until I lost my job in June 2008. So I'm not eligible under the stimulus plan for help with our COBRA premiums.
I'm over 50 and we have twin sons in their third year of college. Fortunately, they're covered under their university group-health plans. For just my wife and me, I pay $941 a month -- more than $11,000 annually in COBRA premiums. If we had to cover our boys under COBRA, we'd pay more than $17,000 a year.
The ability of laid-off employees to remain covered under their employers' health plans was established in 1986, when Congress passed the Consolidated Omnibus Budget Reconciliation Act, or COBRA.
My wife and I are fortunate. We enjoy excellent health, and our COBRA premiums allow us to keep a sound health plan. We've looked into less expensive health insurance, but know from friends who have purchased such plans that many policies limit access to the best doctors and hospitals.
We've researched affordable alternatives for people aged 50-64, including health-insurance plans through our university alumni associations and through AARP. But we can't purchase those plans in New York State because state law requires that insurers who offer comprehensive individual health policies must offer a standard package of mandated benefits including medical and hospital coverage.
Individual coverage offered by AARP and some other associations is not available in our home state because the policies or specific benefits packages offered do not meet these state requirements.
In passing the stimulus, or American Recovery and Reinvestment Act, Congress addressed the problem of COBRA affordability, but only for some people.
The Obama administration must act retroactively and provide COBRA help to people who lost their jobs before September 1, 2008. To do otherwise -- to ignore the hundreds of thousands of people who have been struggling for more than a year -- is unjust.
After I pay for COBRA and taxes on my $405 weekly unemployment check, I have only $129 left per week. Many thousands of responsible Americans are in the same sinking health-insurance boat with my family. We need a life preserver -- and fast.
The opinions expressed in this commentary are solely those of Patrick Keeffe.
E-mail to a friend

All About Health Care Costs • Recessions and Depressions