By Ed Henry
CNN Senior White House Correspondent





WASHINGTON (CNN) -- The budget blueprint President Obama will present to Congress on Thursday leaves open the possibility that he will need an additional $750 billion in bailout money, according to senior administration officials familiar with the plan.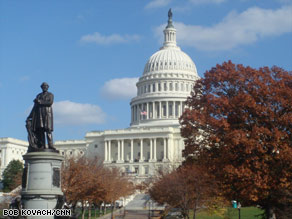 Congress voted last year to authorize the $700 billion Troubled Assets Relief Program.
The budget has what senior officials are carefully calling a "placeholder" that opens the door to the possibility that the president will need to tap an additional $750 billion in taxpayer money to buy troubled assets.
The officials stressed that the president is not yet officially seeking new bailout money on top of the $700 billion Troubled Assets Relief Program bailout already authorized by Congress that could be tapped out by year's end.
Instead, officials stressed that as part of his commitment to truth in budgeting, as spelled out in his Tuesday address to a joint session of Congress, Obama wants to be upfront about the possibility that he might seek more bailout money later this year.

The officials also noted that they project an additional $750 billion in bailout money would actually cost taxpayers only approximately $250 billion, because the government expects to get a return on some of the money it would shell out for troubled assets.
Nevertheless, even a placeholder for potential bailout money could be politically explosive because of the controversy surrounding the existing TARP program, which has been widely criticized by the president and leaders in both parties for poor oversight and accountability.
E-mail to a friend

All About Barack Obama • Troubled Assets Relief Program • U.S. Congress