By Jessica Yellin and Kevin Bohn
CNN






WASHINGTON (CNN) -- At 40, Peter Orszag is the youngest member of the Obama Cabinet and one of People magazine's "hottest." These days he's also front and center of the president's key policy initiatives.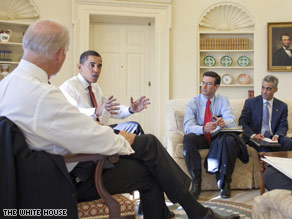 OMB Director Peter Orszag, to the right of President Obama, attends a meeting in the Oval Office.
Orszag, director of the Office of Budget and Management, will present the White House's first budget blueprint on Thursday. It will include spending cuts and the expiration of the Bush tax cuts, beginning the effort to halve the nation's deficit by the end of President Obama's first term.
In an interview in his White House office, Orszag told CNN, "We are not going to play the games that have been played in the past ... pretending that there will never be another hurricane, natural disaster... or assuming that a war can be ended instantaneously and there is no need to budget out your costs."
That means cuts to many departments. It's his job to inform Cabinet members about coming trims, which is why OMB directors sometimes have been called hatchet men.

Watch more about Orszag »
For example, when Orszag told Defense Secretary Robert Gates about Pentagon cuts, Gates' arm was in a cast. A senior White House official said Gates jokingly told White House staffers the real source of his pain: He had "just met the president's new OMB director."
The budget is one part of his profile. The other part is policy architect and negotiator with congressional Republicans.

Watch more of Obama's plan for the budget »
Orszag's key role in getting the $787 billion stimulus plan through Congress was the first time he was directly involved in negotiating legislation.
White House Chief of Staff Rahm Emanuel tapped Orszag to help him hash out the final details -- at times leaving Orszag alone to talk over the bill with the Republicans.
Orszag tried to bridge differences and was keeper of the ever-changing numbers, often crunching numbers in his head.
Don't Miss
Emanuel said Orszag "has enormous credibility" and is trusted on the Hill.
Orszag will be also be a major player in his area of expertise -- health care legislation. He insists an overhaul of the health care system can be accomplished this year.
"The single most important thing we can do to put this nation back on a sustainable long-term fiscal course, is slow the growth rate of health-care costs," he said Monday as he introduced Obama at Monday's fiscal responsibility summit.

Interactive: See more about Peter Orszag »
He repeats the theme at every opportunity. He said that if Medicare and Medicaid grow as fast over the next four decades as they did over the past four, they will make up a fifth of the nation's economy by 2050.
He concurs with economists who believe health-care costs can be reduced by 30 percent -- about $700 billion a year -- without harming outcomes. How? He supports electronic record-keeping and studying how different doctors perform the same treatments to find the best and most efficient ones.
Orszag is accustomed to working behind-the-scenes analyzing economic data, but now finds himself at center stage. Cameras cut to him when Obama mentioned the budget in Tuesday's address to Congress.
"You know I think it would be easy, walking into the West Wing or walking into the Oval Office to be overwhelmed by the responsibilities, but then I think you are less effective in what you are doing," he said, referring to the pressure of his new role.
"So I just, almost purposefully, try to focus on the task at hand, whatever it may be, because if not, it's almost stultifying to do anything else."
He served for almost two years as director of the Congressional Budget Office, focusing a lot of attention on health care and climate change before being recruited into the administration.
He's been working marathon 14- to 16-hour days. An avid runner, he wakes at 4:30 a.m. and goes jogging before heading to work.
He's been running a sprint in these first weeks in the job -- he and his team had six weeks to write a budget that usually takes six to eight months to compile. At the same time, he put together the largest spending bill in history while working to help prop up the automobile industry.
Orszag thinks the job is a perfect fit for him.
"It combines many things that I love. It's got rigor to it, and the organization is very analytical and a huge range of issues which I ... really like to engage with, from defense to health care... across the whole gamut of what the government really does," he said.
Being called part of a "nerd team" doesn't bother him.
"It is partially accurate. I grew up in an academic family and got sort of strong academic roots, so that is part of who I am," Orszag said.
His work has won bipartisan praise.
Senate Majority Leader Harry Reid calls him "a natural."
Republican Sen. Judd Gregg, a leading fiscal conservative, said, "He is smart. He is straightforward. He is extremely capable. I think Peter is one of the best things President Obama has going for him concerning bipartisanship."
Former Federal Reserve Chairman Alan Greenspan said, "Peter Orszag is a leader in the next generation of economists and policymakers."
But he could have done without the attention for one incident. He was told the fireplace in his office was operational, so he started a small fire on the Sunday after the inauguration to see if it vented. It did.
Then he started a larger one.
"Unbeknownst to us, a few years ago the Secret Service had capped the top of the chimney where this fireplace feeds up to, so while everything was venting down here, two to three floors up there was smoke filling a room. Fire alarms went off," he said.
The fire department responded. No damage, no one was injured. But, he said: "We are not using the fireplace any more."
Orszag said only one priority competes with the president -- his two children.
The White House releases the budget the same day his daughter turns 9.

"I asked her if I could take her to breakfast on Friday. She said no. I said how about Wednesday? 'Nope.' "
So he starts one of the biggest days of his career taking his daughter to breakfast in the White House mess. Then he'll deliver the blueprint for the president's first term to Congress.
E-mail to a friend

All About Peter Orszag • Barack Obama • U.S. Office of Management and Budget