WASHINGTON (CNN) -- President Obama named former Washington Gov. Gary Locke as his nominee for commerce secretary Wednesday.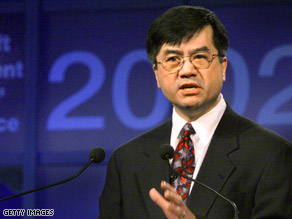 Gary Locke served two terms as Washington's governor and five terms in the Washington Legislature.
"Gary will be a trusted voice in my Cabinet, a tireless advocate for our economic competitiveness and an influential ambassador for American industry who will help us do everything we can, especially now, to promote our industry around the world," Obama said at the announcement made near the White House.
"Gary knows the American dream. He's lived it. And that's why he shares my commitment to do whatever it takes to keep it alive in our time," he added.
Locke, 57, was the country's first Chinese-American governor, elected to lead Washington in 1996 and re-elected in 2000.
Before becoming governor, he served five terms in the Washington state House of Representatives and one term as King County executive. He was chairman of the House Appropriations Committee from 1989 to 1994.
A lawyer, Locke is in private practice with Davis Wright Tremaine in the national firm's Seattle, Washington, office.
"Working with the professionals at the Department of Commerce, I'm committed to making the department an active and integral partner in advancing [Obama's] economic policies and restoring the American dream to all Americans," Locke said.

Watch more of Locke's remarks »
Don't Miss
Locke would be Obama's third choice to be commerce secretary. His most recent pick, Republican Sen. Judd Gregg of New Hampshire, cited "irresolvable conflicts" with the administration over the economic recovery bill when he withdrew his name from consideration February 12.
New Mexico Gov. Bill Richardson, a Democrat, bowed out January 5, citing the distraction of a federal investigation into ties to a company that has done business with his state.

Interactive: Cabinet vacancies, president by president »
Democratic officials told CNN the investigation involves a California company that won municipal bond business in New Mexico after contributing money to various Richardson causes.
Richardson denies any wrongdoing. iReport.com: What do you think of Obama's cabinet picks?
Acknowledging his trouble in filling the Commerce slot, Obama on Wednesday joked that he is "a big believer in keeping at something until you get it right."
Another Obama nominee -- former Sen. Tom Daschle of South Dakota, who was nominated to be secretary of health and human services -- withdrew February 3 after controversy erupted over his tax records and questions over his work in a field that some consider lobbying.

The former Senate majority leader apologized for a series of errors that included failing to report $15,000 in charitable donations, unreported car service and more than $80,000 in unreported income from consulting.
He filed amended tax returns and paid more than $140,000 in back taxes and interest for 2005-2007.
E-mail to a friend

CNN's Ed Henry, Ed Hornick and Suzanne Malveaux contributed to this report.
All About U.S. Department of Commerce • Barack Obama