By Terry Frieden
CNN Justice Producer





WASHINGTON (CNN) -- Attorney General Eric Holder, just back from his first trip to Guantanamo Bay, Cuba, said Wednesday he is still determined to carry out President Barack Obama's order to close the prison, but admitted he was "impressed by the people," and said "the facilities are good ones."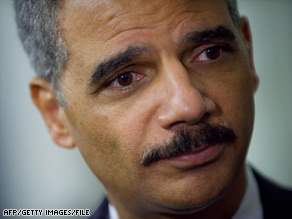 Attorney General Eric Holder said he didn't witness any prisoner mistreatment during his trip.
Holder's positive assessment of "professionalism" at the prison was in distinct contrast to claims by many critics who charge Guantanamo Bay stands as a world-wide symbol of the alleged U.S. mistreatment of enemy combatants.
"I did not witness any mistreatment of prisoners. I think to the contrary I saw a conscious attempt by those guards to conduct themselves in an appropriate way," Holder told reporters.
Holder has been named by Obama to oversee the process that will decide what to do with the 245 detainees held at the prison.
Obama's executive order allows only one year for the prison to be closed.
"This will not be an easy process," Holder said. "It's one we will do in a way that ensures that people are treated fairly and that the American people are kept safe."
Holder predicted it will take most of the coming year for his staff of lawyers and experts to comb the files of the detainees and then decide whether they should be released, sent to other countries, placed in military courts, or moved to civilian criminal courts in the United States.
The attorney general spoke of his visit as members of Congress expressed a range of views on what to do with the detainees, and whether the president should re-consider his order closing Guantanamo Bay.
E-mail to a friend

All About Guantanamo Bay • Barack Obama