By Jason Chaffetz
Special to CNN





Editor's Note: Rep. Jason Chaffetz, a Republican, represents the 3rd District of Utah in Congress and is appearing in CNN.com's "Freshman Year" series on the experiences of two rookie lawmakers.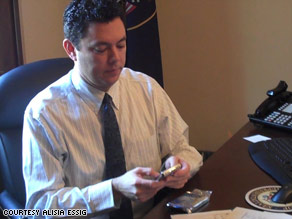 Freshman congressman Jason Chaffetz uses his BlackBerry to send out Twitter messages.
WASHINGTON (CNN) -- The president addressing a joint session of Congress is a historic event. And even though I disagree with him on a number of items, I wanted to be sure to mark the occasion.
After all, it's another in a long line of "firsts" for the president -- and me.
Before and after president Obama's speech, I sent out some "tweets" through the social networking site Twitter, to allow me to share this historic experience with my constituents back home. Twitter allows me to get out my message to people directly, and more than 1,900 people are now "following" my Twitter messages -- my name on Twitter is "jasoninthehouse."
People are amazed that it is really me on Twitter. They are flabbergasted that they can communicate with me directly. Others in Congress are doing it as well. I think it has long-term ramifications. All the members are here to represent thousands of people, and communication is the key. If you do it right, it can even be fun.

Watch why Congress is all a-Twitter »
Sunday, February 22nd 5:42 p.m. "State of the Union will be Tuesday. Wonder what sort of seat a guy like me gets?"
Yesterday around 11:30 a.m. I tweeted, "I went over to the House Floor prior to the start of the 2:00pm session. They put in a mobile camera for the State of the Union."
"Evidently this is on the other side of the Floor from last year so viewers can see screaming Obama fans rather than Republican reaction."
"In other words, the camera will be over the Republicans' but shooting the Demos."
Don't Miss
After the votes in the House yesterday, I went down to the floor around 7 p.m. to scout out a seat. I arrived earlier than most but not as early as some members. There were some who showed up early in the morning to stake out their seats so they could fawn over the President.
"Members of Congress are lined up early to be on Obamacam. Funny how some seats have two names on them. " (Some had placed their name card on the front of the seat, and some on the back of the seat, therefore two people accidentally claimed one seat. I wonder how they figured out who got to sit in those seats.)
I ended up with a sweet seat as a witness to an important address.
"In the House on the Floor six seats from center aisle stage left. Sitting next to Jeff Flake R-AZ. Seventh row."
After I sat down I looked around and decided to tweet about my surroundings, "Two guys working the tele-prompter. Dangerous job. They have measured it dozens of times."
"One tele-prompter appears broken. Still 1.5 hours to go but I bet they are nervous."
"Fixed the tele-prompter, I think..."
As the time came close to the speech, It was time to put my phone away. Tweet: "Won't text during speech, a bit rude to do so, but that is two hours out."
After the speech, I started twittering again.
"Shook the President's hand on the way in, signed my program on the way out, BUT..."
"I worry about walking the walk. Promise: No earmarks Reality: Voting this week on approps bill with 9,000 earmarks...."
"Promise: wants smaller government Reality: Dems passed single largest spending bill in the history of the United States..."
"I am fascinated to see what the President thinks he is cutting back on other than Defense."
"Raising taxes isn't helpful. This is not the time. The people making $250k account for 50%+ of small business owners."
Now that it is the day after the president's remarks, we will be voting for an omnibus appropriations bill that contains all those earmarks and an unknown number of "no-bid" contracts. Clearly, I will be voting against this and be consistent with the call from the president, but this is the reality of the rhetoric not matching the reality.
It was an honor and another surreal moment to be in the crowd. Now it is time to roll up our shirtsleeves and dive deep into the details needed to move us forward.

And next year, I hope to be in the chamber again, twittering before and after the State of the Union.
The opinions expressed in this commentary are solely those of Jason Chaffetz.
E-mail to a friend

All About Twitter Inc. • Barack Obama • Public Finance