(CNN) -- Alaska Gov. Sarah Palin will repay her state for travel expenses for nine trips with her children as part of a settlement of a 2008 ethics claim, the attorney who investigated the matter said Tuesday.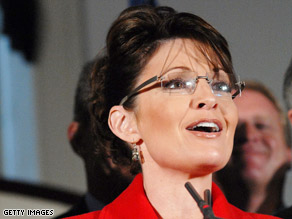 Alaska Gov. Sarah Palin speaks at a meeting of the National Governor's Association in December.
Anchorage lawyer Timothy Petumenos said Palin's office is still adding up the costs, but "I'm told it's running about $7,000." Palin acknowledged no wrongdoing as part of the settlement, and her attorney said she has been "fully exonerated" by the investigation.
Complaints that Palin improperly took her children on state-paid trips emerged during the 2008 presidential campaign, when Palin was the Republican nominee for vice president. The state Personnel Board hired Petumenos to investigate that claim and others filed during Palin's time on the GOP ticket.
The settlement states that Palin did not violate Alaska's ethics law or commit wrongdoing, and that she followed the advice of experienced staff. But it also calls for state officials to draw up new regulations covering future state-paid trips.
Petumenos said he investigated about 40 trips as part of the investigation, and found nine he considered questionable -- including trips in which her daughters accompanied her on a state aircraft and to a summer meeting of the National Governors' Association in 2008.
Palin agreed not to contest the issue, Petumenos said.
In a statement issued with the settlement, Palin attorney Thomas Van Flein said the settlement shows state law was unclear and that by paying back the money, Palin "is in fact complying with a standard that has yet to be created."
"The governor has shown by her actions here today that she adheres to the highest level of ethics," he said.
The complaint was one of several filed as Palin was touting her credentials as a reformer on the campaign trail last year. Last week, Alaska officials notified Palin that she owed back taxes on thousands of dollars paid in state meal allowances she collected while staying at her home in Wasilla, outside Anchorage.
Palin spent about half of 2007 and 2008 working in Anchorage, where many state offices are located, even though the governor's official residence is in Juneau.
She will pay "whatever the IRS says," her spokesman, Bill McAllister, said Monday, but he would not disclose the amount owed.
E-mail to a friend

All About Sarah Palin • Republican Party