(CNN) -- Some economists doubt President Obama will be able to meet his goal of cutting the nation's deficit in half by the end of his first term.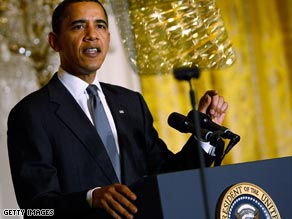 The details of President Obama's budget will be available Thursday.
Harvard economist Jeffrey Miron said it's a good idea for Obama to focus on the long-term deficit, but he said he suspects the proposal to halve the $1.3 trillion deficit is "wildly optimistic."
Most of the savings would come from spending less on the war in Iraq, streamlining government and raising taxes on those who make more than $250,000, an administration official told CNN.
"First, tax increases will probably not produce as much revenue as being forecast, and second, he hasn't really touched the two really important programs that account for a huge fraction of our future liabilities ... Social Security and Medicare," Miron said Monday on CNN's "American Morning."
"Unless he does something about those, he's just kicking a can down the road," he said.
Peter Orszag, the director of the Office of Management and Budget, on Monday insisted the tax provisions would not go into effect this year. He said Obama's team plans to trim the budget "honestly, without gimmicks."
Presidential Address
Join the Best Political Team on TV as President Obama makes his first address to Congress.
Tuesday, 9 p.m. ET on CNN

"I'm not into being wildly optimistic," Orszag said when asked about Miron's comments. "So I think whatever characterization that was is just going to turn out to be wrong once everyone sees all the details."
A summary of the budget will be released on Thursday, Orszag said.
The administration is trying to use a "realistic set of budget projections," in which they factor in the potential for unexpected expenses from natural disasters and don't pretend that the Alternative Minimum Tax will take over the tax code, Orszag said.
The AMT was originally intended to target the wealthy, but now hits many middle-class families. The stimulus bill Obama signed last week includes a temporary patch so the tax doesn't start to hit middle- and upper-middle-income families.
Lakshman Achuthan, managing director of the Economic Cycle Research Institute, said Monday that the future of the economy depends on the business cycle.
"There's a lot of political ideological debates that are longer term debates that have nothing to do with how we're going to get out of this recession. ... It really depends on where the business cycle goes.
"If this is a short recession with a strong recovery, you'll make that target, the president's target, you might even beat it. However, if this recession drags out or if you have a weak recovery, you could forget about it. It's not going to happen," Achuthan said.
Don't Miss
Any predictions of recovery toward year end, he said, is "just that -- it's an assumption. It's not an objective read of where things are headed."
Obama on Monday afternoon will hold a fiscal responsibility summit. The president is expected to focus on the long-term fiscal problems facing this country.

Watch a preview of the summit »
"I think the real issue is that we face a pair of trillion-dollar deficits -- the first is the trillion-dollar deficit between how much the economy could produce each year and how much it is producing. That was what the stimulus was aimed at.

"We also, though, face these trillion-dollar budget deficits, and if we don't act to address them, we will ultimately create a budget crisis down the road we want to avoid. That's going to be the focus of today's fiscal responsibility summit," Orszag said.
The summit comes on the eve of Obama's address to Congress and the nation, another speech expected to center around the economy.
E-mail to a friend

All About National Economy • Barack Obama