WASHINGTON (CNN) -- President Barack Obama's pick for commerce secretary is likely to be former Washington Gov. Gary Locke, two administration sources told CNN Monday.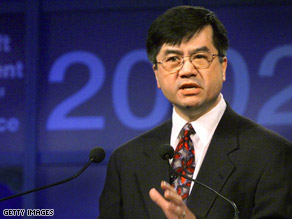 Locke served two terms as Washington's governor and five terms in the Washington Legislature.
Locke, 57, was the country's first Chinese-American governor, elected to lead Washington in 1996 and re-elected in 2000.
Prior to becoming governor, the Democrat served five terms in the Washington Legislature and one term as executive of King County, Washington. He was chairman of the House Appropriations Committee from 1989 to 1994.
A lawyer, Locke is currently in private practice with Davis Wright Tremaine in the national firm's Seattle, Washington, office.
Locke would be Obama's third choice for the post. Obama's first pick, New Mexico Gov. Bill Richardson, withdrew from consideration in early January, citing the distraction of a federal investigation into ties to a company that has done business with his state. Democratic officials told CNN the investigation involves a California company that won municipal bond business in New Mexico after contributing money to various Richardson causes.
Richardson denies any wrongdoing.
Obama went outside his party for his second pick, Sen. Judd Gregg, R-New Hampshire. But Gregg withdrew on February 12, citing "irresolvable conflicts" over the administration's economic stimulus bill.
Don't Miss
Richardson and Gregg have not been the only ones to withdraw their nominations to Obama's Cabinet. Former Sen. Tom Daschle, who was tapped for secretary of the Department of Health and Human Services, withdrew on February 3 after controversy erupted over his tax records and questions over his work in a field that some consider lobbying.
The former Senate majority leader apologized for a series of errors that included unreported car service and more than $80,000 in unreported income from consulting. He filed amended tax returns and paid more than $140,000 in back taxes and interest for 2005-2007.
E-mail to a friend

CNN's Ed Henry contributed to this report.
All About U.S. Department of Commerce • Barack Obama