By Ashley Fantz
CNN






(CNN) -- Gary Condit's mother sums up her son's life over the past seven years in a few words.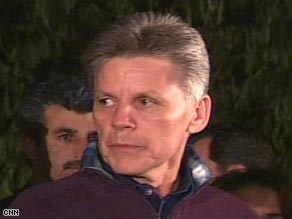 Gary Condit's affair with Chandra Levy brought him into the media spotlight when the intern vanished.
"It has been hell at times," Jean Condit, 79, told CNN.
A source has told CNN that a suspect for the murder of Chandra Levy has finally been identified, but Jean Condit fears her family will always be tainted.
Although police never named the former California congressman as a suspect in Levy's murder -- a case that spun into a salacious tale of Condit's admitted affair with the 24-year-old intern -- his mother said he was branded for life with a scarlet letter.
"Everyone was thinking that Gary was involved in something that he was not a part of and it was horrible," Jean Condit said. "It has always followed him, followed our family."
Many people in their hometown of Modesto, California, have been gracious. But, she said, "There are still hard-nosed people in our town who still think something."
Now 60, Gary Condit has been living in Arizona, partly earning a living in real estate and playing with his grandkids at his home in the woods outside Flagstaff, his mother said. "He takes the kids on Dune Buggies and tries to enjoy his life."
The Condits were caught off guard by reports this weekend about a possible break in the murder case.
Chandra Levy's mother, Susan Levy, told CNN that the Metropolitan Police in Washington, D.C., had "enough evidence to convict somebody."
A CNN source close to the investigation said the suspect is Ingmar Guandique, a Salvadoran laborer.
Guandique is serving a 10-year sentence in a medium-security prison north of San Bernadino, California, for separate attacks on two women in Washington's Rock Creek Park. He assaulted the women, who were jogging in the park, around the time of the intern's disappearance. Levy's remains were found in the park in May 2002.
Police have questioned Guandique over the years but he has denied any involvement. His lawyer, public defender Santha Sonenberg, would not discuss the case with CNN.
"This was a botched investigation, I think it's safe to say," CNN legal analyst Jeffrey Toobin said.
CNN attempted to reach Gary Condit, but he is not ready to talk about the case, according to his mother and his brother, Burl Condit.
The ex-lawmaker released a written statement this week saying he was glad the Levy family might soon see justice. He blamed an "insatiable appetite for sensationalism" for blocking "so many from searching for the real answers for so long."
Burl Condit told CNN he agreed that the unrelenting media scrutiny of the case painted his brother in an irreversibly damning light.
In 2001, when Levy went missing, Condit at first sidestepped questions from reporters about his affair with Levy, who was an intern with the Bureau of Prisons. Condit later admitted to the relationship and the notoriety sank his political career. He lost in a 2002 Democratic primary and left at the end of his term.
Jean Condit said she and her husband Adrian, a Baptist minister, instilled in their son an obligation to serve the public. And when his career in public office ended without much hope of revival, Gary Condit went through a dark, trying time, his mother said.
"He always wanted to do what he was doing [in Congress]. He was good at it," she said.
She felt helpless at times as she struggled to comfort her son. "You know, what can you do? What can you say to help? We talked. We all talked as a family, but what can you do?" she said.
Condit moved to Arizona because California "had maybe too many memories," Jean Condit said.
The former congressman tried other jobs, including running two Baskin-Robbins ice cream shop franchises in the Phoenix area. He was sued by the company for unpaid franchise and legal fees, and the Condit family was found liable and ordered to pay more than $44,000, according to the judge's order.

This week, with an arrest in the Levy case reportedly imminent, the Condit family is hoping for a respite from bad news.
"Our life just goes on in spite of whatever people say or do, or what the news media does," said Jean Condit. "He has tried to get on with his life."
E-mail to a friend

CNN's Susan Candiotti contributed to this report.
All About Chandra Levy • Murder and Homicide